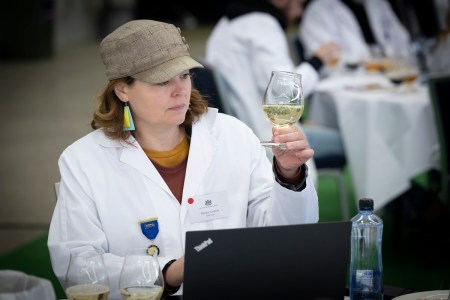 New chair of judges Briony Liebich will oversee an expert panel when judging for the Australian Cider Awards takes place in October.
Having judged at two prior Cider Australia awards, the widely experienced Briony (pictured) steps into the role after numerous judging positions in the past including industry-leading competitions the World Beer Cup, the Australian International Beer Awards and the Australian Independent Beer Awards.
Joining her for judging on October 16 and 17 in Melbourne will be highly respected international guest judge and writer and educator Darlene Hayes, drinks journalist and author Max Allen, Flying Brick Cider's Nyall Condon, Plenty Cider's Adam D'Arcy, Bacchus Academy's Jenny Polack and Rob Hall from Napoleone Cider.
Entries to the Australian Cider Awards are open until September 22 while the winners will be announced on October 26 at a gala event in Melbourne. Tickets are on sale here.
Speaking with Beer & Brewer, Briony said Cider Australia was very good at compiling judging panels that deliver a diverse, independent range of palates and experience within the beverage industry.
"I love to see artisan craft products perform well in a crowded market," Briony said. "Coming from a background growing up in a vineyard and winery, I strongly support local manufacturing and agri-business.
"We have amazing fruit and I want people to appreciate real craft products made from natural ingredients. These awards are another great way to showcase that.
"Australian craft cider is fascinating and Australian producers aren't afraid to experiment – we're seeing such an interesting mix of flavours, techniques and styles emerging.
"But people just don't have easy enough access to these products. We're swamped with wine, we're swamped with craft beer. I would love to see (local cider) better recognised. It's a small industry, but it's strong. If people only knew, they'd be intrigued.
"I've had ciders as good as champagne, people just need to know they exist."
In a media statement Cider Australia president Warwick Billings said: "Briony has served as a cider judge across many years and her wide ranging sensory expertise is respected in the industry.
"As the chair, Briony will be instrumental in ensuring the Awards maintains its strong reputation and continues to bring value to the Australian cider industry. She will be joined by a respected team of judges with expertise across beverage production, marketing, communication and education.
"The judges' assessment is holistic and in-step with industry trends and innovations, with diversity of expertise ensuring a robust process as they make their way through the 30 different styles of cider."