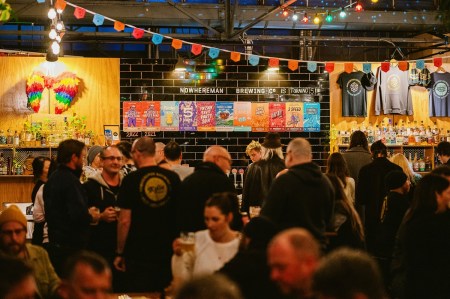 WA-based brewing and hospitality group Triple-1-Three has announced it's moving to acquire Perth brewery Nowhereman's brewpub and associated assets in a share swap deal.
Whilst the move is still subject to shareholder and regulatory approvals, Triple-1-Three, who owns Otherside Brewing, said Nowhereman's West Leederville taproom will transform into an Otherside location and join their stable of venues that include Freo.Social, Mojos and the Otherside Brewhouse in Myaree plus the Otherside Brew Lounge at Perth Airport's Terminal 2 which is due to open in November. Triple-1-Three said via social media that Nowhereman's brewing and venue operations will be amalgamated within Otherside over the next few months.
"We're thrilled that Nowhereman is joining the Triple-1-Three band," their managing director James Legge said in a statement.
"The uniting of our two businesses presents a fantastic opportunity to join forces in a rapidly changing landscape – both in brewing and hospitality – and the chance to bring such a respected and celebrated business into the fold is something we're very excited about.
"For Triple-1-Three, this adds another successful venue into the group and provides a great opportunity for those living close to central Perth an opportunity to experience the Otherside brand, its award-winning beer range and also to become part of our popular Beer Tycoons membership program. We are also excited to have Reece, Pia and the Nowhereman team join us."
Nowhereman founder Reece Wheadon and their general manager Pia Poynton will move into the amalgamated entity with the latter appointed as Otherside's head of sales as current Otherside sales director Chris Webster exits the business to pursue a new venture.
Reece said: "We're so incredibly proud of what we've built, the community we've connected with and stories we've made. This coming together of two value-aligned businesses is going to help those connections, create more stories and take our beloved West Leederville brewpub to heights we couldn't on our own. We couldn't be more excited to join Triple-1-Three and work with their great humans."
In a social media post to announce the move, Nowhereman said: "While we bring our brands together you'll still be able to enjoy our award-winning beers at the West Leedy brewpub and everywhere you have been finding them".