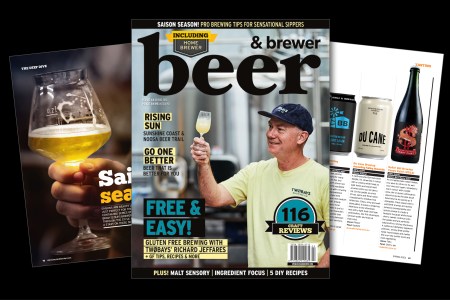 Spring into our latest edition that's out in good news agents and home brew stores.
This issue we're taking our first ever proper look at gluten free beer as our in-house team guide you through brewing with alternative grains as well as a number of GF recipes including a Black IPA and Helles Lager. We also tap into GF experts like our cover model Richard Jeffares from TWØBAYS Brewing who offer up insights and more amongst 10 pages of dedicated content.
After a winter spent enjoying styles fit for that season we shift our focus to beers on the lighter end of the spectrum as our main feature looks at the rise of those classed "better for you" while our tasting section hones in on ones lower in alcohol.
Take a look at just some of what's inside the spring 2023 edition:
Also this issue:
116 craft beers and ciders reviewed by some of Australia's best judges.
The dedicated HomeBrewer section full of expert advice, recipes, local news and more.
Our continuing series looking at Australian ale trails heads to the Sunshine Coast.
An in depth look at the modern advancements in beer's key ingredients.
Brewer Steve Brockman guides you through brewing sensational saisons.
Sensory analyst Briony Liebich looks at malt's key structural role in beer and how we can boost our descriptive skills for malt-derived sensory properties.
And plenty more!
Subscribe to Beer & Brewer's quarterly magazine for as little as $29.50 a year.