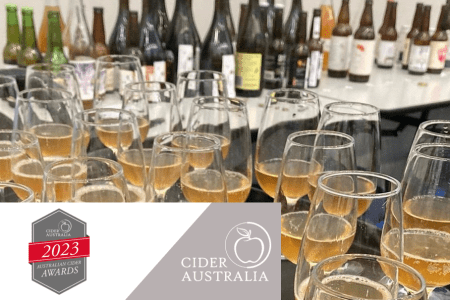 National industry body Cider Australia has opened entries to the 2023 Australian Cider Awards which will be held in Melbourne in October.

Entrants will compete for accolades in 30 commercial classes with the expert judging panel to blind taste hundreds of ciders, specialty ciders and apple and pear spirits in Australia's largest cider competition.

President of Cider Australia and chair of the organising committee Warwick Billings said ciders that are not sold in Australia can enter for the first time this year as part of a three year trial, giving international producers the opportunity to test products in the Australian market.

"We are excited to announce this year's guest judge, Darlene Hayes from the United States, a highly respected educator, judge and writer with a true passion for cider," Warwick said.

"Darlene is a Certified Pommelier™ – a course of study akin to the Wine and Spirits Education Trust and the Court of Master Sommeliers but for cider rather than wine –bringing a well-rounded technical and international perspective to the judging table."

Enter the 2023 Australian Cider Awards online here.

Registrations close on September 22 and the results will be announced on Thursday 26 October at a gala industry dinner in central Melbourne. Tickets will go on sale in August.

FULL DETAILS ON AWARD CLASSES AND RULES CAN BE FOUND HERE.
Key dates
Entries close
Fri 22 Sep 2023
Deliver entries
Mon 25 Sep – Fri 6 Oct 2023
Cider master class hosted by
Darlene Hayes
Sun 15 Oct 2023 (Melbourne, venue TBA)
Judging (closed to the public)
Mon 16 & Tue 17 Oct 2023 (William Angliss Institute, Melbourne)
Awards presentation dinner
Thu 26 Oct 2023 (Melbourne, venue TBA)
This is a media release distributed by Cider Australia.