Every 10 weeks Stone & Wood's limited release project Counter Culture dishes up something new and unique that's a far cry from their flagship Pacific Ale. They call it their "breath of fresh air" that's like "an art gallery with a new exhibition passing through" regularly.
Since launching at Good Beer Week in March 2019 with the hugely popular Killer Kween Berliner Weisse the regular, limited edition releases have become some of the most anticipated in the country as their styles have spanned the likes of a French Toast Stout to a Margarita Sour while presenting an aesthetic that deviates markedly from Stone & Wood's general direction.
But what goes on behind the scenes of a Counter Culture release? How do they come up with the ideas? And what do the brewing team think of them?
With their tenth Counter Culture release out now we chatted with Stone & Wood's head brewer Caolan Vaughan and their innovation manager, and the "father of Counter Culture", Sam Martin to find out.
The Holy Grain Honey Toasted Hazy IPA (6.2%) merges all that's good in a straight up IPA with the nostalgia of the breakfast table as honey, vanilla and toasted coconut are added to a pale malt, wheat and oat backbone while it's hopped with Sabro, Galaxy, Citra and HBC 472. It gives off the impression of being sweet without being sweet while its toasted oat, vanilla and coconut characteristics deliver a comfort food-like experience and a mouthfeel and textural element that's akin to the smoothness of crème caramel.
It follows November's Earl of Swirl Berry Cream Sour while the next Counter Culture beer, due out in April, could be the first time we see a past favourite re-released. See below for more details.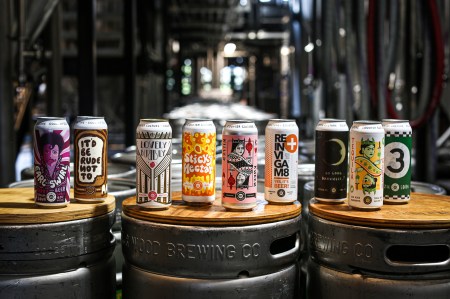 Where did the concept for the latest release come from?
CV: We initially just wanted to make a great IPA but then it sort of evolved. We were asking ourselves 'how do we play on it a little bit more? How do we create an interesting back story so we get the total package of a really great beer and an awesome overall concept?'. That's how the muesli-granola bar concept came to mind.
SM: During one of our brainstorms, we were discussing our favourite breakfast snacks, like toasted granola, porridge, muesli, Weetbix – the possibilities are endless and almost like a search for the ultimate brekky snack. To introduce some humour to the concept, we took inspiration from one of the funniest movies of all time: Monty Python and The Holy Grail. Just like the film, the idea was to ask our drinkers to go on their own quest, a quest for 'The Holy Grain'.
How do you go about creating a beer that takes its inspiration from breakfast cereal
CV: Using ingredients that would work well with the hops was a big aspect of the whole concept. So we looked to our memories of the food first to get a little bit of inspiration and asked ourselves 'what ingredients have been used in the nostalgic versions of them?'. So there's a lot of honey and oats and wheat in there while we also used a toasted oat which is basically oats that have gone through a malting process. They in turn resemble crystal malt in terms of colour and give off this really nice, toasted characteristic to it. But then some of the hops we used, like Sabro and HBC472 and their characteristics, give off the aromas and flavours that we were after to replicate the whole theme. And I think at the end of it, what you're faced with, is a beautiful, aromatic IPA with these nice elements of coconut and vanilla that work in well with a fruity, hoppy beer. It was dry-hopped at roughly 16 grams per litre so we didn't skimp on hops at all. It's been a beer that's sparked a lot of conversation around it. Some people love it, some people hate it. But that's what we want because it gets people talking about beer. But from my point of view it's got a good balance of everything – it's got good malts, good hops and the honey, coconut and vanilla just adds to the overall offering and complexity.
How much lead in time do you have for each Counter Culture release considering there are a few high volume beers under the Stone & Wood umbrella?
CV: We try and be as planned ahead as we possibly can, a few beers at least – but that isn't always the case and we've often got to turn a concept around very quickly. Ideally we try and have the beer in planning or already brewed for trials (by the time the latest one is hitting the market). And then once the beer is decided upon, that's when the branding side of things steps in and the marketing team come up with an epic concept in a crazy amount of time. It is a challenge and definitely puts everyone under an element of strain. But in saying that, it's fun and we're always striving to have a bit of fun with it.
What's it like for the brewing team to have this opportunity every 10 weeks to do something very unique?
CV: Taking our Pacific Ale as an example, there is real beauty in repetition and refining and perfecting something and I think we've got that down to a fine art. But our entire production team are collectively really creative, we like to experiment and have a bit of fun so it is really enjoyable to play with new ingredients and new concepts and beer styles. So to have the opportunity that Counter Culture releases give us is overwhelming loved by the team. They keep us fresh and engaged in creating new beers. With The Holy Grain, it was one where we went 'we're just going to do it from start to finish'. We didn't experiment with it on the pilot system but went with our gut. We'd already done a bunch of IPAs, we'd used those hops before, we'd played with coconut and vanilla before. And what I think we've ended up with is an IPA that does what it says on the can – it's a nice straight up IPA with beautiful but subtle coconut and vanilla characteristics that really springs to mind the nostalgia around eating cereals as a kid.
What's the philosophy behind Counter Culture releases and what can people expect in the next one?
SM: Counter Culture is a break from the day-to-day for all areas of the business. A chance to get creative with beer styles, graphic design, writing, events, packaging and even the sales team have a different mindset on how they chat about this range and what venues they approach for launch activations. It's a breath of fresh air every 10 weeks. On a basic philosophical level, Counter Culture acts likes an art gallery with a new exhibition passing through every 10 weeks. After this time, there is a good chance you'll never get to experience these beers again. However, watch this space. We have an exciting announcement to make in March. There are no rules when it comes to Counter Culture, the only thing that is for certain, is we launch a concept every 10 weeks.
The Holy Grain launched on February 1 and is already sold out online with Stone & Wood. Head here to find out where it can still be purchased in can or on tap.