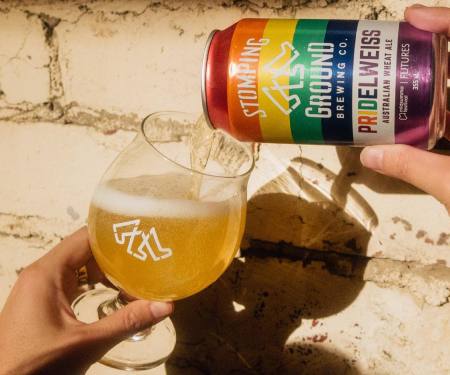 STOMPING GROUND PRIDELWEISS AUSTRALIAN WHEAT ALE (4.4%, 355ML)
Since 2017 Stomping Ground have added to their mantra of "bringing people together" by supporting the Midsumma Futures program and have raised $45,000 in that time that's gone towards developing and mentoring LGBTQIA+ artists and culture-makers. With their PRIDElweiss Australian wheat ale now available, and the Midsumma Festival running from April 19 until May 5, they are enhancing their commitment to the program by offering 50 cents from every can sold to the cause. And here's hoping they sell a truckload because the beer, just like the festival, deserves to be enjoyed far and wide.
Pale and cloudy with a satisfyingly prominent and long-lasting all white head, aromas are soft and inviting with a delicate and complex mix of green melon, faint citrus with pepper and spice balanced by some gentle vanilla sweetness. A fresh, lemony-lime citrus body delivers a seriously refreshing, crisp drinking experience that's only enhanced by its dry and snappy finish. This is such a delicate, satisfying beer that should act as a reminder, that despite the wheat ale being so dramatically usurped by American-style pales, it remains altogether ideal for the Australian climate and drinker – but perhaps they just need to be reminded of that. This would be a good place to start to refresh those memories.