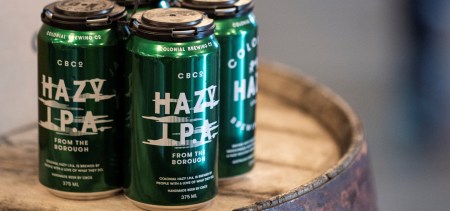 COLONIAL BREWING HAZY IPA (6.7%, 375ML)
The tropical fruit aromas and flavours in Colonial's Hazy IPA limited release are on full display via the return of the 360-degree rip lid cans that the brewery helped make famous Down Under.
First released in 2019 and subsequently since at this same time of year, the Hazy IPA has always showcased the same line-up of fresh-off-the-plane Idaho 7, Mosaic and El Dorado hops from the US harvest. The Cryo version of Idaho 7 and its stable-mates helps deliver a ramped-up hop-forward experience where aromas and flavours are pronounced, distinct and inviting. And after stashing enough fully rippable lids away (sadly, they're not being made anymore) especially for this year's Hazy those characteristics can be experienced straight from the can.
There's a somewhat greenness to this tightly wound hazy, but not in a vegetal way, but rather down to the freshness of the sample and the freshness of the hops.
A cloudy yellow with good haze and creamy white head, the aromas are full and defined as tropical notes of green melon, pawpaw and ripe stone fruit are fresh and clean while balanced by a touch of sticky piney spice.
The tropical goodness takes the lead on flavour too as wheat and oats aide a lush mouthfeel while maximum satisfaction comes from the delicate interplay of softly sweet malt and a gentle bittering.