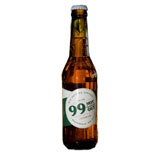 Aussie cricket legend Shane Warne has partnered up with New Zealand brewers Moa to create and launch his own brand of beer, exclusively to the Australian market. The beer – 99 Not Out SKW Pale Ale – is said to be different to the existing Moa Pale Ale offering, in that it's more sessionable.
The new brew was launched in Melbourne recently by the Spin King himself, at Melbourne's Crown Casino, and is described as a "sessionable 'new world' style Pale Ale of 5% alcohol. Hopped with New Zealand Kohatu and Cascade hops, it displays spicy / earthy hop notes, a strong malt backbone, and a nicely balanced bitterness."
The name refers to Warnie's now-infamous efforts with bat against the Kiwis at the Perth Oval in 2001, when he was robbed of his chance to score his maiden test century by poor umpiring and an undetected no-ball from Daniel Vettori. 99 Not Out will only be available in Australia, distributed exclusively through Woolworths and Dan Murphys outlets.
The venture marks a turnaround in strategy for NZ-based Moa, which recently announced a new direction in distribution across the Tasman. Consumers can now expect a more stable supply of Moa brand beers right around the country, with the first shipment of five brews sent to Dan Murphys last week.