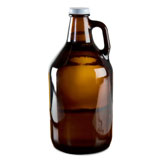 The National Measurement Institute of Australia (NMI) has released a statement of advice, aimed at clarifying industry and consumer confusion surrounding the use of growlers and squealers as takeaway containers.
The advice states that under trade measurement law, "beer, stout and ale must be sold at a price determined by reference to volume. When beer is sold on tap at a licensed premise, this usually involves serving the beer in an approved batch-tested glass or jug with the volume marked in millilitres (mL) or litres (L)".
The advice notes the increasing trend for tap beers to be sold to consumers to take away in growlers or squealers that are not deemed to be officially recognised measuring instruments – as opposed to the normal on-premise containers, such as jugs, schooners and middies.
The advice goes on to outline the responsibilities of those serving and selling tap beer in takeaway containers:
Beer must be sold at a price determined by reference to volume (eg: a 'Growler' is 1.89 L)
The volume supplied must be correct.
A takeaway container is only considered to be a receptacle and not a measuring instrument.
If the volume supplied is determined by a measuring instrument, which includes volume measures, that instrument must be of a pattern approved by NMI and verified by a servicing licensee authorised by NMI.
If the measuring instrument is not readily visible during purchase, a written statement of the volume must be provided at the time of purchase. The written statement may be provided in a number of formats, including a receipt or swing tag on the bottle.
There is no requirement to advertise a unit price. If a unit price is advertised, however, it must be expressed as a price per litre.
Where a container is filled in advance ready for sale, that container is considered to be a pre-packaged product and must comply with the legislative requirements for pre-packaged products.
For more information, check the National Measurement Institute website.
An earlier-published version of this story suggested that NMI had determined and set a volume for growlers and squealers – this was incorrect, and has been amended in the story.