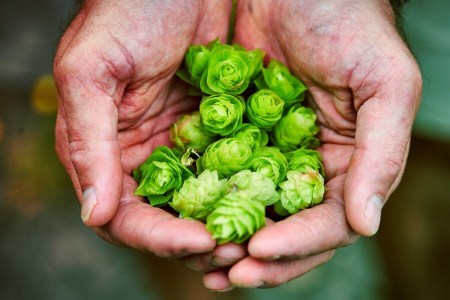 Tasmania's Van Dieman Brewing is holding its annual hop picking day this Saturday (March 20) at their brewery farm just outside of Evandale.
Register for the free event here
In what has become something of a tradition spanning 10 years, the mid-March hop flower bloom coincides with friends and beer lovers heading along for a day of picking enjoyed with a few refreshing drinks. Last year saw them pick a record harvest of over 350kg of fresh, aromatic hop cones, and this season appears to be better again, with consistent warm weather and regular rain.
The resulting harvest is destined for an annual Wet Hop beer using the once-a-year fresh hop flowers, to be served at Aprils' Fresh Hop Festival in New Norfolk. The remainder will be dried and utilised across the next 12 months for Van Dieman's Estate Ale series – a range of beers that are produced from entirely on-farm ingredients.
"It's an unbelievably enjoyable opportunity to learn where beer comes from, where it begins and how we utilise an agricultural product to create such an incredible product in beer," Van Dieman's owner and brewer Will Tatchell said.
The day will start at 9am, with the hops delivered from the field up to the brewery lawns for pickers to pick the flowers from the bines. It's expected to take four to five hours but volunteers don't need to stay for the entirety of the pick. It's asked that you register first so they can manage numbers.
It's suggested you bring a camp chair, gloves, a long sleeve shirt and something for young ones to drink and eat. A small lunch of brewery-raised lamb and some refreshments will be provided to pickers.
"We want people to learn, understand and know where their beers come from, and this is a once a year opportunity for beer lovers to experience this hands on approach to brewing."
Location:
Van Dieman Brewing
537 White Hills Road
White Hills, TAS 7258
This is an edited version of a media release distributed by Van Dieman