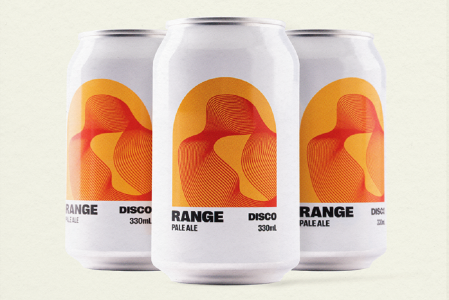 Since launching in 2018 Australia's Range Brewing have built their reputation not by possessing a core range of perennial beers but rather by unveiling new releases on a weekly basis. It's a backwards approach compared to many breweries, but one that has allowed them to come forwards in massive leaps. The 600-plus good-time-not-a-long-time beers they've released so far have seen them not only become one of the country's most in demand breweries but enabled them to have hospitality presences in two different states and brought in major awards along the way too.
But while the release schedule they're known for will remain, the Gerard Martin and Matt McIver-founded brewery will now finally possess a range of year-round beers too – which kick-off with the release of the Disco hazy pale ale and a series of launch parties nationwide (details below).
After the craze for their limited release hazies fuelled much of their growth, and in the wake of winning the inaugural Champion Juicy-Hazy trophy at the recent Independent Beer Awards, their "Forever Range" begins in familiar territory with a beer they said was "almost five years in the making".
Matt said the vision for the 5.2% Disco, and what's to come from future core range releases, is "to showcase the best parts of every recipe, ingredient and method" they've tried throughout their rigorous release schedule.
"Disco is a fresh and hazy pale ale that's been double dry-hopped for an extra level of hop luxury," Range said. "We've sourced hops from our favourite suppliers in the US and New Zealand to give us the utmost control over the flavour of our beloved Disco. You can expect a medium-full mouthfeel with a light and juicy carbonation. Juicy notes of fresh melon and passionfruit burst through, with a late hit of orange zestiness to finish. The bitterness is low but lightly present and brings with it an element of ultimate crushability. It's been made to fit in perfectly at any backyard party, afternoon picnic or as the ultimate crusher after a long day."
Disco launch parties
Brisbane
Range Brewing – Oct 28 (first pour from 12pm, brewers' shout from 4pm)
The Woods – Oct 28
Melbourne
Range Brewing – Oct 28 (first pour from 12pm, brewers' shout from 4pm)
Mr West – Oct 28
Newcastle
Prince of Mereweather – Oct 28
Sydney
The Union Hotel – Oct 28
Adelaide
The Little Pub – Oct 28
TAS
Moonah Hotel and Cellars – Nov 4
Perth
Besk – Oct 28