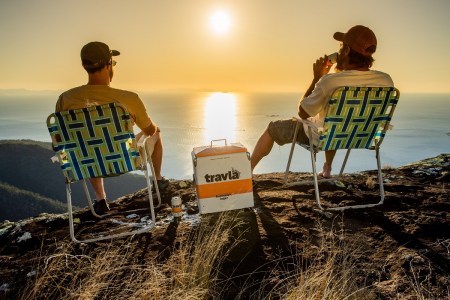 Joining the "better for you" beer category ranks this week is the celebrity-backed "Australia's lager" from Travla – a low carbohydrate, low calorie 3.5% lager made with all-Australian ingredients that has arrived with a slick marketing campaign and immediate nationwide distribution in Coles-owned bottleshops.
Counting Australian actor Travis Fimmel of TV show Vikings fame and chef and restaurateur Andy Allen (pictured above) among its founders, Travla's flagship lager has been positioned, in the brand's words, "to buck the localisation trend and create a beer that represents this country as a whole… that in time can be taken to the world".
So, no pressure then for the brewer charged with creating it. But for Blake Bowden, who began working with the Travla team just prior to his departure late last year from Jetty Road – the brewery he co- founded – told Beer & Brewer that while it's a task that comes with added weight, from his head brewer's perspective it's exciting "as it's been so long since Australia had that beer, that spoke for all Australians".
"Australian beer has somewhat disappeared from an overseas perspective," Blake said (pictured below), who's also been, among other brewing-related roles, consulting for a few breweries since he and fellow co-founder Grant Rodgers sold their stakes in Jetty Road to the ASX-listed drinks company Mighty Craft.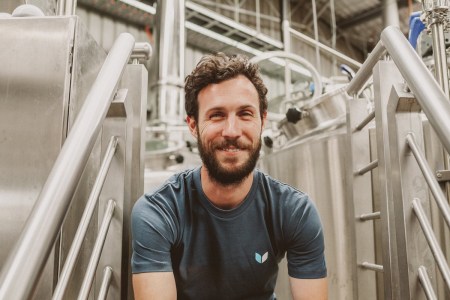 "Obviously XXXX, Great Northern and others in some way speak about Australia within our shores and in certain regions only, but overseas not so much.
"In terms of an internationally recognised Australian beer, Foster's (Lager) was the last that was synonymously Australian overseas and I think that has been well and truly lost.
"The (Travla team) see that as an opportunity to restore some of that desire for Australian beer internationally and obviously for Australians in general too.
"(Their ambitions) are really just built from wanting to make a great Australian beer for Australian people. If you don't set your sights high, you don't achieve it. They're ambitious, but at the same time they're pretty driven to make this as great as it can be."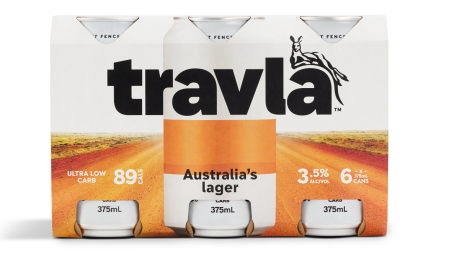 The beer itself
Currently contract brewed at Brick Lane Brewing, Australia's lager is the first of what Blake said would be a range of Travla beers. Their Pale Ale is currently on tap at Andy Allen's co-owned Three Blue Ducks restaurant in Melbourne and is expected to be available in packaged format in the near future.
Knowing what the founder's intentions were for the lager, Blake said from the outset he knew it needed to have all-Australian grown ingredients.
"From there, it was a case of wanting to have a relatively mainstream beer with just that twist of modernism. Something that can add a little more flavour and profile than you would typically get from a mainstream lager or from the 'better for you' beer category.
"So we went with a pretty lean malt backbone. We use Cluster (hops) as a sort of bittering hop throughout for that traditional lager style. But we then we use Melba (hops) in the whirlpool, to just lift a little bit more of that fruitiness.
"It's definitely not at the craft beer, pointy end of the spectrum. But for a low carb, mid-strength lager, it definitely holds a lot of flavour and definitely drinks at higher than 3.5%.
"We wanted to create a beer for every occasion. We wanted something that could sit next to a meal but also that didn't sit heavy in your stomach. It's that hiking beer, it's a sitting in a deck chair kind of beer and the aim was for it to be an all-situation beer.
"And I'm pretty proud of how it's come out. They're notoriously difficult beers to brew because there's not a hero ingredient that's bold. They're quite delicate and nuanced beers, which most people don't realise too much."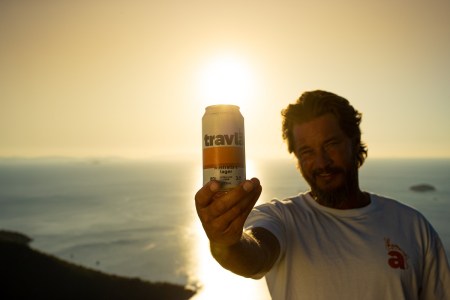 Tying into the 'better for you' boom
With its obvious star power, but also its low alcohol, carb and calorie easy-drinking nature, Travla's lager's similarities to one of the most successful Australian beers in recent memory are clear.
Backed by Australian social media stars The Inspired Unemployed and the aforementioned Mighty Craft, Better Beer has gone on a sales rampage in Endeavour Group bottleshops since it was released last year to become Dan Murphy's fastest growing beer brand in almost a decade. It's little wonder Coles' suite of Liquorland, Vintage Cellars and First Choice bottleshops have been keen for a slice of the pie that Travla could represent.
When trying to explain Better Beer's phenomenal results, and Travla's potential in the same category, Blake pointed to Covid's impact on yet another part of our lives.
"This is purely opinion based, but during Covid we saw a pretty dramatic shift in people wanting to try a brand new (beer) ever week. But since that has kind of levelled out a little… I think people are after a fridge-filler again. But not only that, they also want to be able to have five or six in a sitting and not feel that they are banging on the weight."
Another by-product of Covid's impact, that could also allow Travla's positioning to tug at the nation's heartstrings a little, is the sense that there's a strong desire currently for nostalgia, of an ideal of the Australian heartland that has been perhaps brought on by the general public being forced to look more introspectively at the nation when international travel was, for so long, unattainable.
We've seen it elsewhere, but in the beer and brewing community it's been evident in how some craft breweries have released easy-drinking styles with retro packaging but also, and most starkly, in Hawke's Brewing's venue The Bob Hawke Beer & Leisure Centre. By our accounts it's been all but chockers throughout its six month lifespan as punters of all colours have sought out the Australia of the 1980s nostalgia that oozes from every wood panel in its Inner Western Sydney location.
Blake agreed, and said it's a huge part of why Travla exists in the first place.
"(Nostalgia for Australia) really is the number one thing Trav is passionate about. He loves to have a beer and he loves Australia as a country. I think he was stuck overseas, and has been overseas acting for so long, that it has really enforced in him his love for country.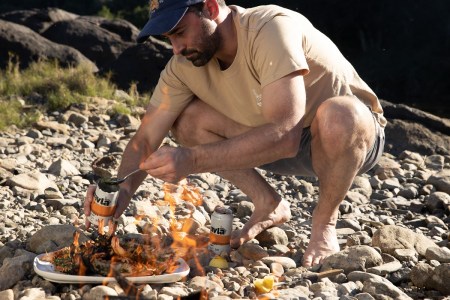 "From the outset this was an opportunity to create a beer that could be inspiring for all Australians, but also a beer that feels like home essentially. It's authentic for Trav and Andy, in that a big part of this is their desire to champion the country and everyone in it.
"(A catch cry of sorts with the brand) is 'you can't Google an experience'. It's just about bringing people together again, which really resonates with me, because when we started Jetty Road, the big driver for me and Grant was having a place which.. brought people back together. Travla is doing that too, but just on a more national scale.
"In a nutshell, it's a beer that's intrinsically Australian for the Australian people and one that can inspire people to love their country, love where they come from and want to share that with the world."
And we'll drink to that.