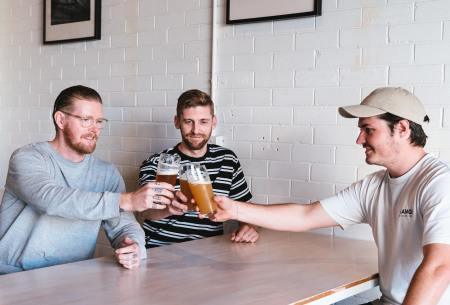 Brisbane's Range Brewing have swept the show at The Indies this year, taking home Champion Beer and Champion IPA for their Fahrenheit IPA, along with Champion Small/Medium Brewery and Queensland State Champion.
In the first year the Independent Brewers Association's (IBA) awards were held virtually due to COVID-19 restrictions, Range's success marks a phenomenal rise for the Newstead brewery, who were launched in 2018 by founders Gerard Martin and Matt McIver with the brewing team headed up by Mitch Pickford. They don't possess a core range of beers per se, but rather a constantly evolving array of limited runs that come and go. This was the first year they took home awards and they are now awaiting the opening of their second location in the Melbourne suburb of Abbotsford.
"We think the standard of hazy IPA over the last year or two has skyrocketed amazingly," Matt said.
"We're blown away. This is far beyond what we expected coming here. We're lost for words."
Matt's sentiments about this year's standards were echoed by Indies Project Group Lead and Hop Products Australia's Michael Capaldo.
"I was particularly impressed with the rise in quality of packaged beer. The first Indies competition in 2014 was similarly restricted to packaged product only, and I remember that the quality was definitely not what it is in 2020, it has gone through the roof," Michael said.
"This is a great compliment to the maturity of Australian independents and to our brewers, who give their blood, sweat, and tears to make every batch better than the last."
Other major winners included: Dainton Brewery (VIC) for Champion Large Brewery, VIC state champions and Champion Strong Beer for their recently released Apocalypso II – Second Wave NEIPA; Moffat Beach Brewing Co (QLD) for Champion Brew Pub and Champion Session Beer for their Moffs Summer Ale; Bintani founder Pete Meddings won the Lifetime Achievement Award for his integral role in the Australasian beer and brewing industry over a multi-decade career; while the Service to the Industry Award went to Stone & Wood co-founder Jamie Cook.
"Each year the Indies is celebrated as part of BrewCon which provides a fantastic opportunity for us to come together as a community, however this year the world changed and therefore so did we," said IBA chair Pete Philip.
"As a result, the Indies Project Group and the IBA Team quickly reinvented the event which resulted in close to 700 entries, 32 judges working in Brisbane, Perth and Newcastle and a live ceremony that included crosses to more than 40 nominees and state parties around the nation. A mammoth effort for a very small team."
The full list of last night's winners:
Champion Amber Dark Beer sponsored by Roxset Health and Safety Flooring Solutions – Stomping Ground Brewing Co, Upside Down Brown Ale
Champion Hybrid Beer sponsored by Ellerslie Australia and Lallemand Brewing – Loophole Brewing Co, The Astral Project – Merlot Sour 2020
Champion Lager Beer sponsored by Barrett Burston Maltings – Hepburn Springs Brewing Co, Pilsner
Champion Mixed Culture Beer sponsored by the IBA – Slow Lane Brewing, Botany Weisse
Champion Session Beer sponsored by the Yakima Chief Hops – Moffat Beach Brewery, Moffs Summer Ale
Champion Strong Beer sponsored by Midland Insurance Brokers – Dainton Brewery, Apocalypso II – Second Wave NEIPA
Champion Porter Stout Beer sponsored by Orora – FogHorn Brewery, Sligo Extra Stout
Champion IPA Beer sponsored by HopCo – Range Brewing, Fahrenheit IPA
Champion Pale Ale sponsored by Yakima Chief Hops – 3 Ravens Brewery, New World IPA
State/Territory Champions:
NSW presented by the NSW Government – Wayward Brewing Co
WA – Blasta Brewing
ACT – BentSpoke Brewing Co.
SA – Loophole Brewing Co.
TAS – Moo Brew
QLD – Range Brewing
VIC – Dainton Brewery
Peer nominated awards:
Young Gun of the Year Award – Jessica McWatt Forbes, Red Stockholm
Community Initiative Award sponsored by BrewsNews – Nowhereman Brewing Co.
True Indie Supporter Award sponsored by Konvoy Kegs – The Local, St Kilda
Service to the Industry Award sponsored by Lallemand and Ellerslie Australia – Jamie Cook
Lifetime Achievement Award – Pete Meddings
Overall Champions:
Champion Brew Pub Award sponsored by Kegstar – Moffat Beach Brewery
Champion Small/Medium Brewery Award sponsored by Hop Products Australia – Range Brewing
Champion Large Brewery Award sponsored by Cryer Malt – Dainton Brewery
Champion Indie Beer Award sponsored by Bintani Australia – Range Brewing, Fahrenheit IPA