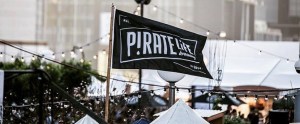 Pirate Life Brewing is launching three new beers as part of their second birthday celebration, to be held on March 5 at the Gilbert Street Hotel in Adelaide.
The new beers are an interesting mix of styles; debuting at their birthday bash will be a saison, a Mosaic IPA and an apricot Berliner Weisse, Pirate Life Brewer Jack Cameron told Beer & Brewer.
While the Mosaic IPA and the apricot Berliner Weisse will be made available in kegs nationwide, the saison is extremely limited and only a few kegs will be distributed nationally.
The saison is the second release from Pirate Life's ongoing collaboration with Barossa Valley-based Tomfoolery Wines. Ageing the beer in Tomfoolery Young Blood Grenache barrels for around eight months, Cameron says the result "kind of tastes like a Riesling and a Chardonnay combined, so it's pretty different to be honest".
The Mosaic IPA is a "bit of a tribute" to the Mosaic hop: "Mosaic plays a big part in our pale ale and also our IIPA and we're big fans of the beer, so we decided lets do a single-hop IPA to just showcase this hop," Cameron says. "That one's going to be sitting at about 7.2 per cent."
The third beer is an apricot Berliner Weisse, which comes with a quirky backstory.
"Back in November when South Australia had a massive storm and we lost power for about 12 hours, we had just mashed in a brew and were kind of stuck with it there," Cameron explains.
"There were really two options of either putting it down the drain or leaving it in there for a couple of days and letting it go sour, which we've always wanted to do.
"We probably turned a shit time into a good time with this Berliner Weisse. We put that in the barrel for a few months and it's just come out, and we've [also] got 300kg of fresh apricot from the Riverland in South Australia, and currently it's just sitting on the apricots.
"We then brewed a second batch of the Berliner Weisse a couple of weeks ago that we're just going to blend with the other batch."
For now the three new brews will remain as keg batches only, with the brewing of further batches provisionally based on customer feedback.
"I think with the Berliner Weisse that's probably something we might only do once a year," Cameron says. "The Tomfoolery obviously is an ongoing collaboration but we're just doing each beer once, so this one we'll release now and we've got another in barrel that will be released in the middle of the year."
With the Mosaic IPA the most obvious candidate for future canning, Beer & Brewer asked Cameron if plans to do so were already in the works.
"If something turns out as good as we hope it does, there's always a good chance we'll put it in cans at some point pretty soon," Cameron says.
Their second birthday party will return to the Gilbert Street Hotel, the site of Pirate Life's launch and first birthday party and loyal supporters of the company from "day one".
"We close down the street next to the Gilbert Street with bands, DJs, food trucks… we had about 2000 people last year so hopefully it's going to be bigger and better," says Cameron.
Head to the Pirate Life Facebook page for more information about the event.