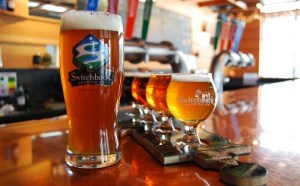 A mid-sized Vermont brewery has become the latest employee-owned craft beer company in the US.
On February 8 the Switchback Brewing Company in Burlington, VT officially became the first 100 per cent employee-owned brewery in the state via an Employee Stock Ownership Plan (ESOP).
At the company's annual meeting, owner and brewmaster Bill Cherry announced to the brewery's 30 employees that they had become partners in the ownership of the 14-year-old company.
Cherry, who will remain as company President and Brewmaster, said that he wanted Switchback to be Vermont-owned forever.
"Entrusting the brewery to the employees ensures the company will carry on with its mission to provide great beer and great jobs to the local community," Cherry said. "It's theirs to grow and nurture and reap the benefits."
To find out the specifics of the deal, Beer & Brewer contacted Abbe Malcolm from the brewery's marketing team, who said that the employees do not need to pay anything up front.
"When an employee eventually decides to leave the company they take their stock with them. It is a nice retirement package for those who stay longer."
A handful of other large craft breweries in the US, including Harpoon, New Belgium, Odell, Left Hand and Deschutes have already made the move to employee ownership.
Switchback Brewing was founded in 2002, with their flagship Switchback Ale the number-one selling draught beer in Vermont. Other regular brews include their Citra-Pils Keller Bier and Connector IPA, along with a number of rotating specials.
Switchback beers are also sold in the neighbouring states of Maine, New Hampshire, Massachusetts, Rhode Island and New York.