Pirate Life and brewing ingredients supply company Cryer Malt have collaborated on a new beer with the launch of their limited release Best Pilsner.
The 4.8% ABV Pilsner was designed to showcase its malts (Pilsner, Carapils, Acidulated) which come care of Cryer Malt suppliers Bestmalz from Germany. The hops harnessed were Ahtanum and Loral, effectively new world nobles, from Yakima Chief Hops – also a key Cryer Malt supplier.
"After 30 years in the business, it's wonderful to be able to do something new with old friends like this," Cryer Malt's founder David Cryer said.
Following a "let's make a beer" phone call with Pirate Life co-founder Jared 'Red' Proudfoot, and subsequent chats with head of brewery operations Lewis Maschmedt, David said the recipe creation brought back fond memories.
"It took me back to trips to the World Beer Cup with these guys and how much fun we had. I'm now counting down the sleeps until this product wings its way from the brewery in Port Adelaide to my garage office bunker so I can taste the fruits of our creation."
Pirate Life co-founder Michael 'MC' Cameron said: "David and I have been mates since we placed our first order with Cryer Malt back in 2014, so it's great to finally team up for a collaborative beer. So many Pirate Life recipes were built using ingredients sourced by them, and this Best Pilsner tilts the cap to two of their finest suppliers in Bestmalz and Yakima Chief".
After a two week ferment with German lager yeast, the Pilsner spent a further 14 days conditioning at 4°C.
"I love the well-rounded biscuity flavour we got, there's even a hint of home-made bread there as well," Pirate Life brewer Tim Kenny, that tracked Best Pilsner's entire journey, said. "(The hops are) beautiful strains, showing grassiness and notes of wild berry.
"We really wanted to do David, his crew and both suppliers justice. We knew that if we produced something to the same quality as the ingredients we were given, it'd come together. I'm really happy with how it's turned out. It's clean, crisp and well defined in its flavours and aromas."
Best Pilsner is available through Dan Murphy's.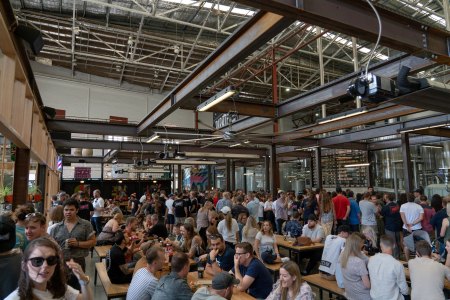 Meanwhile, Pirate Life's seventh birthday celebrations kick-off on March 4 with a three-day event at their Port Adelaide Brewery.
A range of one-off beers will be on offer (including a saison, a raspberry and lemon crush brewed beverage and a double IPA featuring Nectaron and Idaho Gem) alongside live local entertainment and a specially designed menu.
As well as the festivities at their Port Adelaide HQ, their birthday celebrations will extend interstate also, with venues in Victoria, NSW, Queensland and WA joining the party.
VIC
March 11 – Hop Temple Ballarat
March 12 – Welcome to Thornbury
NSW
March 12 – The Balmain Hotel
QLD
March 12 – Bine Bar & Dining
WA
March 11 & 12 – Pirate Life Perth