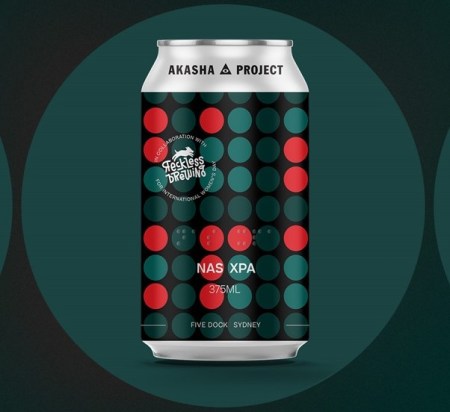 NSW breweries Akasha and Reckless have again teamed up to mark International Women's Day, this time with ABC disability affairs reporter, and "big craft beer fan", Nas Campanella on a beer designed with low or no vision people in mind.
Released today (March 2), the Nas XPA's label spells its name in raised Braille and Nas has recorded the can's text content via a QR code on the back. All proceeds from its sale will go to support the collaborators' and Campanella's elected charity partner – the Leichhardt Women's Community Health Center. The non-government, not-for-profit women's health clinic was also the receiving charity last year when Akasha and Reckless released the Frida XPA – their inaugural collaborative beer to mark International Women's Day (IWD).
Reckless co-founder and Akasha marketing manager Grace Fowler, who we spoke to recently about establishing a home for Reckless in Bathurst after contract brewing since launching in 2019, told Beer & Brewer they had been searching for the perfect person to dedicate this year's brew to after the last was an ode to Mexican artist Frida Kahlo.
"We had a long list of amazing women, but wanted someone Australian this year," Grace said.
"Nas is a big craft beer fan and has been a bit of a regular at (the) Akasha (taproom). I reached out and she was super keen to be involved – and really excited about the concept of an inclusive beer.
"We brainstormed ways which we could keep it accessible to as many people as possible, and Nas got us in contact with Vision Australia, who provided feedback on all our ideas. They were thrilled as well!
"(IWD) is particularly important for Reckless. Two of our three founders are women and (it's) a big deal for us. We are also massive fans of Nas and she has been super cool to work with."
This year's IWD theme is "#breakthebias" and Nas, who lost her sight when she was six months old, said via a statement that concept "has so many applications".
"As well as helping women on their journeys of self-empowerment and self-determination, it's an opportunity to help overcome bias in all its forms," Nas said, who started her current role with the ABC in 2020 following a near decade-long journalism career after the national broadcaster offered her a cadetship in 2011.
To be released as part of the Akasha Projects limited release series, the 4.2% ABV Nas XPA is brewed with Lupomax Amarillo and Lupomax Ekuanot with an extra pale malt base.
Grace said they've brewed doubled the amount of what they did for the Frida XPA due to the latter's success and that they hope to continue making an IWD beer each year.