Independent Australian craft beer has come together under one roof in Sydney's Inner West with the opening of the new, 42 tap venue The Beer Bar this week.
Serving up Australian indie craft beer, cider, spirits and wine only, the Alexandria bar is located within walking distance of many of the Inner West breweries that feature heavily on the menu alongside well known brands from right across the country. The entire tap list is uncontracted and will rotate on a monthly basis while seven wine and seven spirit brands are also on offer.
The new venture is the brainchild of Marrickville local and ex-analytical chemist Steve Paull who returned to Australia in early 2020 after three years working in the medical diagnostic industry in the US. Having enjoyed the thriving craft brewery scene in Minneapolis–Saint Paul, and also taking inspiration from his friend Laurence Van Dam who co-founded The Beer Spot craft beer venues in New Zealand, Steve said he felt "the beer scene (in Sydney) deserved something different". Steve's son Ben, who has worked in packaged liquor sales for the last three years, will help manage the bar with Klem Hojan who arrives with plenty of British hospitality experience.
Speaking with Beer & Brewer, Steve said the 42 different options across the taps include seven pilsners/lagers, seven ales, seven IPAs and seven sours while the rest are stouts or porters and a cider with the make-up to change with the seasons.
"The idea is to make good beer accessible and serve it well," he said. "Everybody in the (independent Australian) craft beer industry gets a go here.
"There's 18 breweries near us and they all have their own brewpubs so I don't want to be competing with them. I want to actually make their products more accessible as their challenge is getting taps at other venues.
"So we're dedicated to not just them, but ones just like them from right across Australia."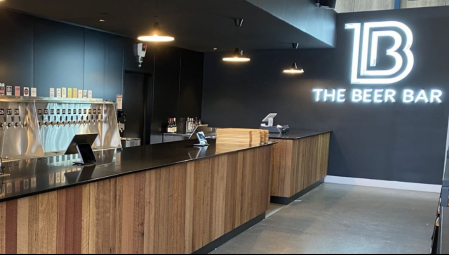 Located in a high foot traffic area and within the Emporia retail complex that features the likes of bottleshop the Liquor Emporium and the Notaras Fish Markets, The Beer Bar has an outdoor space that can seat 28 while they have capacity for 92 indoors.
While Sydney's Inner West is well known for its brewpubs, it's not so much been a location for a dedicated craft beer venue – and certainly not one with such a diverse offering. Steve said the timing was just about spot on for that to now change.
"Once this rain clears that is anyway!
"But seriously, it's for the locals, as there are a lot of people that live and work in the area. But it's also for the people that want to try great independent craft beer from all over Australia."
The Beer Bar is at 29/31 O'Riordan Street in Alexandria and is open daily from 12pm to 10pm. Food trucks will rotate weekly.