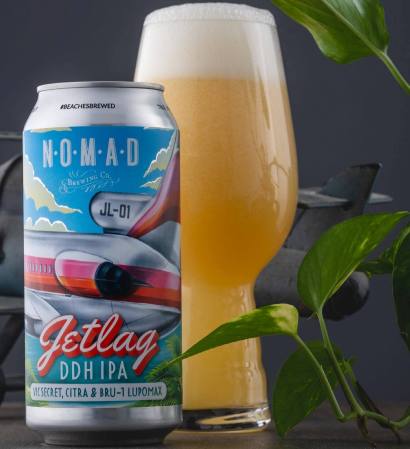 NOMAD BREWING JETLAG 01 DDH IPA (6.5%, 440ML)
Nomad are turning their former core range Jetlag IPA into an evolving series of double dry hopped limited releases with the first of the new bunch out now.
In 01, gone are the added finger limes from the original while Vic Secret remains in the hop line-up for now joined by Citra and Bru-1 Lupomax – the new concentrated pellet from Haas Innovations that has helped this in being hugely hop forward without the vegetative traits you'd otherwise expect from something so loaded.
In turn it demands new descriptions because hazy or opaque really don't apply here regarding its visuals. This is more atmospheric than that, like a tropical storm is brewing amid its murky, overcast depths. The hop influence transmits huge tropical fruit juice aromas with caramelised, almost charred, pineapple and vanilla adding to an incredibly enticing opening stanza.
The punctuated hop notes continue across the palate, gifting a freshness to proceedings while there's just enough bubblegum sweetness and bitter bite to rein that in for balance.
With most people lucky enough to have forgotten what actual jetlag is, Nomad's version makes for a much better reason to keep you up at night.