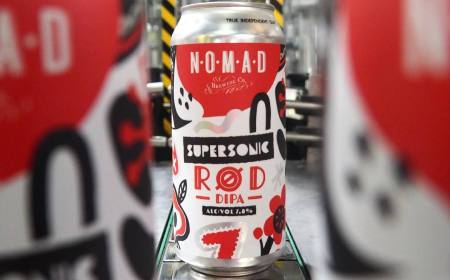 NOMAD BREWING SUPERSONIC RØD DIPA (7.8%, 440ML)
With can art looking like fabric that's been plucked from a Scandinavian design store, Nomad have headed to Norway for inspiration for the latest in their Supersonic DIPA series that celebrates the combination and balance of hops and fruits.
Following on from late last year's fruit-driven Sonic Boom Yuzu & Passionfruit DIPA and the Mandarin & Blood Lime DIPA this is a warming, earthy Red (or Rød in Norwegian) Double IPA with Kveik yeast lending a bouquet of tropical fruit and citrus nuance to an otherwise true-to-style rendition.
Pouring a deep amber to rich mahogony with an off-white head there's a luscious mix of citrus and pine forest freshness wrapped in an oozy caramel sweetness on the nose.
Flavours are a swirling, decadent medley of plump dark fruits, pink grapefruit and a robust earthiness that are all carried along with textural, velvety smoothness.
And so, as they say in Norway, skål! Albeit slowly considering the ABV.