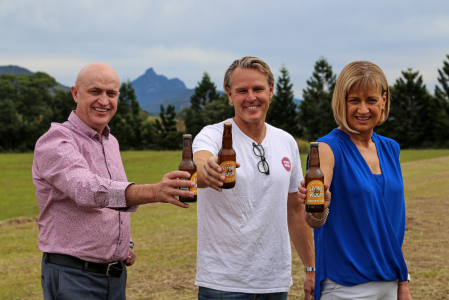 Co-founder Ross Jurisich has called it a "landmark day" in the life of Stone & Wood as the brewing company confirmed its plans to commence building a new brewery in the Northern Rivers region of NSW with a proposed cost of $50 million.
The announcement was made on Thursday 22 April just down the road from the original Stone & Wood brewery in Murwillumbah on a 34,000-square metre piece of land they purchased four years ago. The site will eventually accommodate a 200 hectolitre, fully-automated brewhouse and a visitor's centre.
In a statement Stone & Wood said the build is scheduled to take approximately two years and create new jobs for local construction and engineering teams as well as continue to provide roles for the Stone & Wood family that live and work in the Northern Rivers.
"We are excited by the prospect of unlocking brewing capacity that will continue to provide jobs in the Northern Rivers through the expansion of domestic distribution while expanding on our export aspirations," Ross said. "Alongside its increased fermentation capacity and warehousing space, the new brewery will also include a hi-tech waste-water treatment plant as part of Stone & Wood's continued commitment for better environmental outcomes."
Fermentum, Stone & Wood's parent company, had initially slated these plans back in January when it said the brewery was constrained by its current production capacity and that they once again hadn't traversed the peak Christmas period without having to allocate stock.
At the time Fermentum co-founder Jamie Cook said: "Looking ahead we know we have to take the next step in building production capacity as brewing in our current location may be unsustainable in the long term. For some years now we have been working up a long-term solution to our capacity challenges.
"Four years ago, we purchased a 34,000-square metre block of land just down the road from our existing brewery in Murwillumbah. Two years ago we completed a scope and design project which provided us with a shovel ready project plan to build a large-scale brewery capable of producing an annual volume of 40 million litres but expandable over time to around 80 million litres.
"Developing the larger brewery will require a major investment and we're currently working through the funding process and are exploring all options – cash reserves, debt, capital raise or a potential IPO.
"Given this would be a major investment in the region and would provide employment opportunities and drive much needed local manufacturing growth we believe there is also a role for all levels of government to play in supporting and funding the project."
(Editor's note: With Federal Member for Richmond Justine Elliott MP, Tweed Shire Mayor Chris Cherry, Deputy Mayor Tweed Shire Councillor Reece Byrnes and General Manager Tweed Shire Council Troy Green in attendance at the announcement it may suggest Fermentum have the governmental backing they had hoped for.)
Jamie added: "The initial stage of the brewery build would be around $50 million and would involve building out the site and infrastructure, installing a new 200hl brewhouse and packaging lines, plus relocating existing equipment from our current site. Further investment over time would be required to expand capacity in line with growth."