The team behind Sydney's Nomad Brewing Co and two fellow partners are opening the all-new Three Tails Brewery in the country NSW town of Mudgee where local American-style barbecuers Smokin' Bro & Co will establish their permanent home. The plan is to open the Three Tails Brewery & Smokehouse venue in late March before commencing on-site brewing in May. Beer & Brewer editor Gifford Lee sat down with Nomad's and Three Tails' co-founder Kerrie Abba to get the low down.
One of the main reasons Kerrie Abba and Johnny Latta set up Nomad Brewing Co on Sydney's Northern Beaches was to help change the landscape of beer in Australia after being turned on to a world of diverse styles on their European travels. In turn Nomad has consistently been as innovative as beer gets here, by dishing up styles, and utilising ingredients, that are anything but your everyday fare. Their salt and pepper Gose, made with water from nearby Freshwater Beach, or the whole host of releases that warp the traditional with new age twists speak for themselves. Their long-established beer, wine and spirits import and distribution company ExperienceIt has only enhanced that influence too, by keeping Australians abreast of what the rest of the world is drinking as well.
And in a roundabout way those same ideals for setting up Nomad, and operating it the way they have since, are central to their reasons for starting the new brewpub – alongside Mudgee local Mick Ash and pub identity 'Ned' Kelly who owns, among other pubs, Kelly's Irish Pub in the same town.
Whilst country NSW has changed a lot, and only continues to be transformed by the urban migration to the bush brought on by COVID, it is, broadly speaking, still less advanced to the idea of what beer can be and the founders hope that Three Tails can go some way in changing that.
But in saying that, while some aspects of the new venture will be common to Nomad and ExperienceIt, and even borrow some of its aesthetic from as far away as Williamsburg in Brooklyn, this isn't a bunch of Sydney blow-ins trying to bring their beach concept to the bush.
Kerrie and Johnny have owned property in the area for over 20 years and have increasingly shared their time between Sydney and their 50 acre olive growing farm 16 kilometres outside of Mudgee since. The idea to establish a brewery in a place more famous for its wineries and colonial history has always been a dream, and part of that vision was to create something that felt like it had "been here for ever".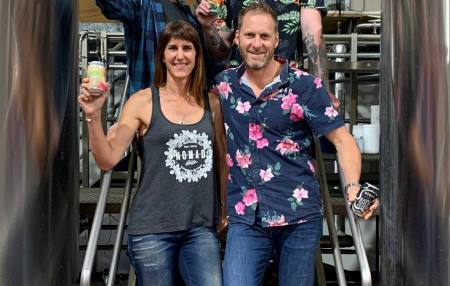 "I had gone to Europe as a non-beer drinker, thinking beer was a certain thing and a certain thing only and that I didn't like it," Kerrie said. "But then we discovered all these amazing beers and came back and went 'right, we want to make diverse beers for everyone'.
"And (Three Tails) is the same, perhaps even more so. When you go out to the country so many country pubs are just serving shit beer because people assume that's what the people want.
"And I just want those same people to find their beer. Anyone who doesn't drink beer just hasn't met the right beer yet. And that goes for someone who only drinks rosé, for example. The challenge for us is to turn them on to a sour beer. Or the tradies, who go 'we don't drink that boutique beer'. Well actually, it's not boutique. I'm making you a Mudgee Draught – own it. It's going to be made here, with local ingredients. We want it ultimately to be of the community and for it to be their beer."
And speaking of beers
With Nomad's Budgy Smuggler Pale Ale already a big hit in Mudgee, surely we'll be seeing a Mudgee Smuggler* version before long. But Kerrie said they'll kick off with the Mudgee Draught (similar to the Brookie Draught Nomad have just added to their core range) and Mudgee Dark plus a lager too.
When open the brewpub will boast 18 taps where Three Tails' beers will be showcased alongside whatever's fresh out of Nomad and newly imported via ExperienceIt.
Until the 8 hL brewkit arrives from China, Nomad will brew Three Tails' beers at their Brookvale brewery. The Draught and the Dark will be their first packaged products while they test the waters to what else might work with wider distribution under the Three Tails banner.
While it's only natural to commence with beers they know will initially resonate with the community, it's a given they'll branch out before long too and, akin to Nomad, native ingredients are integral to their plans.
One example will be sourcing seasonal fruit from the Lowe Family Wine Co's restaurant – The Zin House's kitchen garden. While that venue's head chef Kim Currie, who's about to start up a new bakery in Mudgee, will utilise Three Tails' spent grain for the likes of crisp breads.
"We're really focussed on working in with the local community and sourcing a lot of our native Australian ingredients from the area rather than, like we tend to do with Nomad, go through established supply companies," Kerrie said.
"We've had a meeting with Indigiearth (an Aboriginal-owned business based in Mudgee that sources native foods from Aboriginal communities who use traditional land management practices) about sourcing these ingredients in the future direct from these communities."
The location
Located next to a church, and across the road from a Catholic school, it's amazing they even got the approval to go ahead at the new Lewis Street address that used to house a furniture store. But it appears the church were all on board ("They were like 'we don't care about the noise, we'll make more noise than you and, actually, we'll be over having a beer with you anyway'.") while any fears the school may have held were allayed by the fact the venue will only operate once the bell's long been rung for home time.
"The advantage Mudgee has over the Hunter Valley is the Hunter doesn't really have a township, whereas Mudgee has the beautiful streetscape. It's a classic old country town.
"In a previous life I worked for Meat & Livestock Australia and I used to go around the country visiting abattoirs and I flew out to Mudgee one week and went 'oh my God, what a beautiful bloody place this is'. Johnny and I were meant to go to the Hunter Valley the very next weekend and so I said 'let's go to Mudgee instead, it's amazing'. We spent the weekend out there and on the Saturday we bought a house in town."
It's a feeling that's being increasingly shared by more and more outsiders everyday, with Mudgee recently being named in the top 10 of "most saved destinations in the world" on Trip Advisor while property prices have sky rocketed as the COVID-induced work from home culture has seen Sydneysiders sell up for a better lifestyle in the country.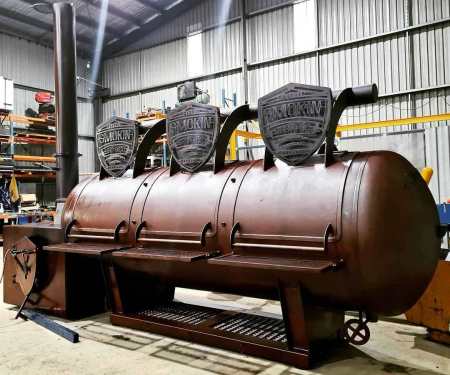 The food
Whilst the name Three Tails is a play on the fact there are three sets of partners on the brewery side of the business, whose love of sharing tales evolved into the three tails of a pig, a sheep, and a cow, it's a nice connection to the fact they will cohabit the venue with one of the region's best proponents of the low 'n' slow BBQ.
Smokin Bro & Co's absolute beast of a purpose-built smoker, made out of an old gas cylinder, looks like something out of Mad Max and will no doubt create real theatre in the venue.
That drama is all part of the look and feel Three Tails wanted and what is directly influenced by the craft beer and BBQ haven Fette Sau in Brooklyn, New York – even down to mimicking their meat cleaver-adorned beer taps.
"It's the same as Smoking Mary at Nomad, we know booze and we want to concentrate on that and the same goes with the food – they do it and they do it well," Kerrie said. "You'll come in, grab your tray of food from Smokin' Bro, then come up to the bar for 18 taps and awesome whiskeys and that's what we'll be about."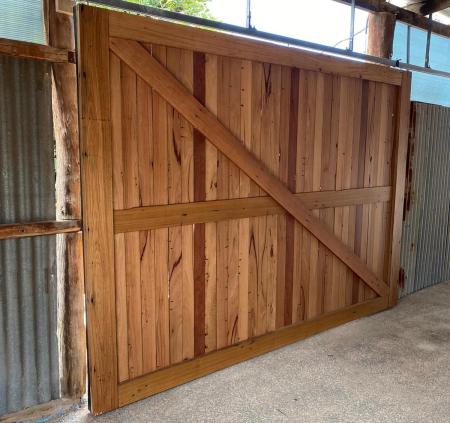 The fit-out
"I had always driven past the shop and thought 'that would make a really cool place for a pub'. It's got that old, market stall-style feel about it and it came up for lease right around the time we were settling on the idea of finally doing something. It just seemed meant to be.
"Initially it was just going to be the venue and then the landlord said 'well, there's this big old rusty shed out the back. Do you want to take that on as well?' And we were like 'perfect place for a brewkit!'."
That shed is now being "lovingly restored to its former glory" as it awaits the brewkit's arrival, where weathered corrugated iron meets the original timber posts and that repurposed theme continues in the venue too.
All the benches are workbenches from the Australian Army, staves from old wine barrels have been used to line walls, vintage kegs have been cut down to make light shades and wash basins while an old shelving unit has been taken down from an interior wall to become the new bar top.
It doesn't necessarily save you any money in the long run, but that was the feel we wanted and we wanted it to be comfortable for people to just come in, sit down, have a beer and feel like this place has just been here for ever, you know."
Three Tails Brewery & Smokehouse is due to open in late March 2021 at 13a Lewis St, Mudgee, NSW. They are currently on the look out for a brewer and a brewpub manager.
*Kerrie, the name is all yours.