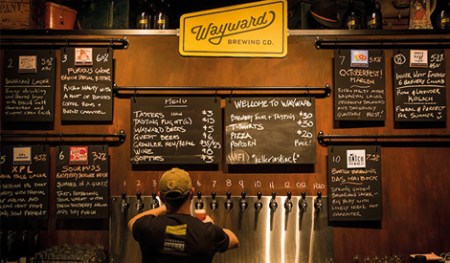 As Wayward Brewing get set to launch their first limited release beer of the year tomorrow they've announced they will up production capacity by a quarter in early 2021 after installing a new canning line and tanks and opening a dedicated barrel room at their Camperdown venue.
The move is also being driven by sales of their new brewed hard seltzer sub-brand W Seltzer far exceeding initial expectations and a new flavour will be added to their current core range of three varieties next week.
"We haven't had that January-February down time yet that we would normally see. I think the fact that people are going out less, but doing their drinking outside of venues, is really pushing the pack products," head brewer Shaun Blissett said.
"We've recently installed a brand new canning line and a few new tanks, with more to come, which means we can (keep up with demand) and it also opens up more room for new releases… We'll be increasing our production capacity by 25 per cent early in 2021."
Their new Codi canning line with depalletiser and inline labeller was commissioned in October last year and can fill both their standard cans and sleek seltzer cans and by April they will have installed six extra 45 hL tanks. These have been designed especially for them in a more squat style by their China-based brewhouse manufacturer due to restricted ceiling heights. Three were installed in October with a further three due to arrive in April which will see Wayward boast 13 45 hL fermenters and three 22 hL fermenters in total.
"This has a lot to do with business in general but we also don't know if the growth of seltzer is going to continue at the rate that it is at the moment," Shaun added.
"What started out as our little side project has taken off like gangbusters. Month on month it just keeps on surprising us that more and more on-prem and off are giving it a crack and that it's become an absolute no-brainer to have it available. Every week I look at the production schedule there's another batch of seltzer than there was a week ago."
Wayward's brewed hard seltzer sub-brand W Seltzer launched in October last year in three flavours – Classic Lime, Summer Berries and Tropical Mango. At the time they weren't sure if it would be around for long. But after its first Summer in existence, and a new flavour landing next week, it appears it has a way to run.
Shaun said keg sales had surpassed forecasts as some venues chose to dedicate a tap to one of their seltzers rather than, for example, to a cider or a pre-mixed option.
"It's still got a big question mark around it in the market. It's still relatively unknown for a lot of people. But we've had to cap our (seltzer) keg supply because we can't keep up with the growth and also so we can keep up our commitment to stocking fridges. It'll be interesting to see what effect Winter has."
In regards to the new barrel room, Wayward now have a dedicated space for their Discovery Series that was launched in 2019. The barrel-aged releases have so far included the Ripasso Bianco and Ripasso Rosso beer-wine hybrids, the Balthazar Barrel-Aged Imperial Stout and the Three Fingered Jack Barrel-Aged Brett Saison.
Using the likes of ex-Jack Daniel's and Tyrrell's barrels, and coupled with their increased production capacity, Wayward said they would be aiming for four Discovery Series releases a year from now on while an all-new beer club launch is proposed for later in the year.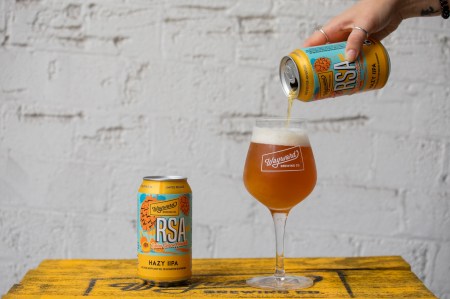 RSA HAZY DOUBLE IPA (8.3%)
Taking its name from the hop line-up of Rakau, Simcoe and Amarillo, the RSA is Wayward's first limited packaged release since November's Passionista Passionfruit and Yuzu Berliner Weisse. It also follows the addition of the Hazy Mid Juicy Mid-Strength Pale Ale to their core range in December.
Alongside the trio of hops, RSA is brewed with English Caramalt and a British Ale yeast strain.
"We've used Rakau on a few of our bigger double IPAs in the past, and we've found that it not only gives amazing tropical stone fruit aroma, but it's also a good layering dry hop. Simcoe is one of the classic longstanding IPA hops, known for pine resin and citrus notes. Then there's Amarillo, which is another old school IPA hop that offers a sweet grapefruit note. It all just makes sense together," Shaun said.
"The Wayward brewhouse is also unique in that we have a temperature controlled whirlpool. It allows us to get all of those oils and aromatics out of the hops without any of the bitterness. You just couldn't get these flavours without a chilled whirlpool. That's also why RSA has a relatively low IBU (20 IBU), even though it's absolutely loaded with hops. So you're getting all of that great hop flavour without the astringency, making it seriously and dangerously smashable."
Shaun said more limited release IPAs are on the cards in 2021 that will feature hop varieties less well known for the style – similar to the use of Rakau in RSA.
The RSA Hazy Double IPA is released tomorrow (February 26). Head here to find its stockists.