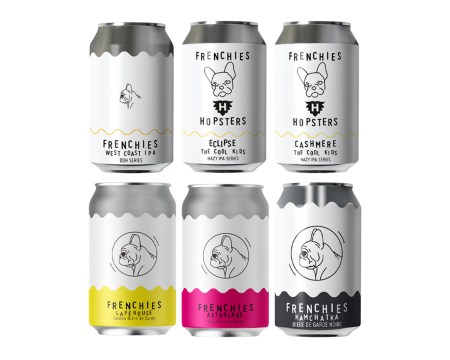 In a series of new releases, and some fresh returns to past favourites, Frenchies Bistro & Brewery showcase their craft of keeping the classics alive while writing an altogether new narrative.
The Sydney brewery has been increasingly charting a new course over the last 12 to 18 months in terms of the styles head brewer Vincent de Soyres has explored and that continues with the latest in their successful DDH series and two new drops in The Cool Kids series of single hop hazy IPAs.
But none of Vincent's love for keeping some European classics alive Down Under has been lost amongst the new, and that is perfectly illustrated as Beer & Brewer revisit their Bière de Garde triumvirate.
Starting with the new, albeit a look back at the same time, is the West Coast IPA DDH Series (6.8%, 50 IBU) where classic hop aromas and flavours from Centennial, Mosaic and Simcoe meet the lemon-lime zest of Riwaka for an on point and bright IPA with a lingering bite of piney bitterness.
The punchy aromas are tropical, dank and resinous while the hop oils shine against some caramel and chewy fruit sweetness yet still finishes dry on the palate.
The second release in The Cool Kids series, in collaboration with Sydney co-op brewery Hopsters, is the Eclipse Hazy IPA (6.5%, 20 IBU) which follows late last year's excellent Cryo Idaho 7.
One of the new cool kid hops on the block is Hop Products Australia's Eclipse and that variety's calling cards of mandarin essence and pine notes push forward heavily out of a pale straw haze that boasts a good white, creamy head. The flavours are akin to citrus-heavy tropical juice with a touch of booze before a good dosing of herbaceous bitterness.
The latest in The Cool Kids series is the Cashmere Hazy IPA (6.5%, 20 IBU). It's a little less hazy (more misty) than its Eclipse predecessor and is a touch on the golden side of pale straw. The hop aromas are less in your face compared to the aforementioned but that's not a slight but rather due to Cashmere's complexities coming and going as your senses are put to more of a test. Melon and citrus intersperse with coconut and honey while the flavours follow the nose, with hops and malts in harmony before wheat and oats deliver all the softness of a cashmere sweater.
In a heavily abridged version of their foundation story, Frenchies founders Vincent's and head chef Thomas Cauquil's journey to Australia followed that of French navigator Lapérouse. The idea of establishing their bistro and brewery was ruminated upon while travelling in the desolate far eastern Russian peninsular of Kamchatka – the same place Lapérouse's ships the Astrolabe and La Boussole set sail from on their way to Botany Bay.
That connection, one they weren't aware of at the time, is celebrated in their three Bière de Garde releases.
The Lapérouse Golden Bière de Garde (7.2%, 30 IBU) is a strong pale ale that resembles a Saison that's a little heavy on the hops and malts but still clean, zippy and refreshing.
It's amber gold and hazy with a floral nose that's got some spice and lager-like fresh baguette about it. The malt bill lends moreish flavours of caramel, sultana and spicy dark fruits, which mixes in well with some light fruity esters, for a Christmas pudding experience without being heavy or sticky.
Cloudy and copper red-brown in the glass, the Astrolabe Red Bière de Garde's (7.4%, 30 IBU) cola similarities continue in aroma where caramel and faint orange, caffeine and coriander merge with dried fruit, brioche sweetness and leather and spice.
As expected the toasted malt flavour is more intense here than the fellow core range Lapérouse, in line with the beer's colour, and outweighs much, if any, of a hop presence. (The use of the new age Alsace hops Triskel and Barbe Rouge are noted in aroma however.) It leans into a rum and raisin fudge realm, almost young barley wine territory, whilst keeping an overall balance and remaining light, smooth and as easy drinking as a 7.4% can hope to be. A good choice for these Autumn nights.
The Kamchatka Bière de Garde Noire (6.1%, 30 IBU) is inky black, with a mocha head where coffee and cocoa aromas meet plum pudding.
The theme established by the first two, of remaining light and refreshing despite their malt complexities and alcohol content, continues here. Its creamy coffee liqueuer and dark chocolate traits are strong but amazingly it still closes dry and crisp with a pleasing roasted malt aftertaste. Look for this seasonal to be released again in April.
Frenchies Bistro & Brewery can be found in The Cannery complex on Mentmore Avenue in Rosebery, NSW.