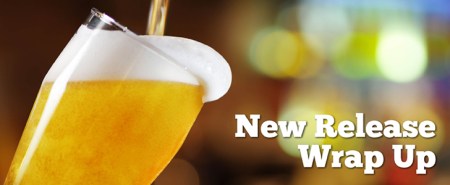 In this week's wrap up we've got an XPA from new Sydney brewery Philter, a James Squire Black IPA, a Cherry Coconut Brown Ale from 4 Pines, a limited release XPA from Tasmanian microbrewery Little Rivers, and America's leading gluten free beer available in Australia for the first time. 
Philter Extra Pale Ale
The newest kid on Sydney's craft beer block is Philter, bringing with them a very sessionable XPA and a 1980s throwback can design.
The beer is crafted by Head Brewer Sam Füss, who has more than 16 years of experience in the industry and was one of Australia's first female brewers – with stints at Little Creatures, Sydney Brewery and Young Henrys.
Philter describes its XPA as a "naturally cloudy and easy drinking beer that meets you with tropical fruit aromas, delivering a distinctly refreshing hop flavour and leaving a balanced finish".
Clocking in at 4.2 per cent ABV, Philter XPA is available in cans and on tap at selected bottle shops and venues around Sydney – for a list of venues, head to their Facebook page.
James Squire Malt Shovel Brewers Interceptor Black IPA
The Interceptor Black IPA is the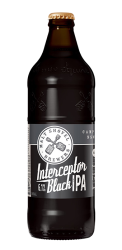 third and latest release from James Squire's Malt Shovel Brewery in Camperdown in Sydney's Inner West.
Head Brewer Chris Sheehan said: "Whilst not a new or cutting edge style, the black IPA style is something that the team wanted to have a crack at brewing for some time.
"The black is driven through roast Midnight wheat, with the IPA bit coming from Centennial, Victoria Secret and a decent Mosaic dry hop.
"We're thrilled with its balance across the palate and the way the roast and pine notes combine."
The Interceptor has an IBU of 50 and a hefty 6.1 per cent ABV, and as a limited release, is only available in James Squire Brewhouses and online via MoCU.
4 Pines Cherry Coconut Brown Ale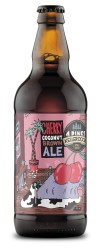 4 Pines' latest Keller Door release, the Cherry Coconut Brown Ale, celebrates the humble Cherry Ripe and "its new best mate, beer."
"Not an obvious combination to some, the marriage of these two is testament to the creativity of our brewing team," said 4 Pines.
"This smooth ale is packed full of flavour from the macerated cherries and will forever make you look at a Cherry Ripe in a different light."
Malt-driven by a mix of four malts, and hopped with Moutere, the Cherry Coconut Brown Ale is available now in limited release 500mL bottles from leading bottle shops around the country.
Little Rivers 29er XPA
Little Rivers Brewing Co. are a Tasmanian owned and operated microbrewery located in Scottsdale in the state's northeast.
Its 29er XPA was brewed especially for the mountain biking Enduro World Series held in early April at the nearby Blue Derby Mountain Bike Trails; the name is in reference to the size of wheels many mountain bikers use.
Citra, Centennial and Amarillo hops lend layers of tropical and floral aromas, balancing a clean bitterness and making it one refreshing drop – perfect after a day shredding the trails.
The Little Rivers 29er XPA is available at the brewery door and at selected bottle shops and pubs around Tasmania, on tap and in bottles.
Omission Brewing Co. Gluten Reduced Lager and Pale Ale
The USA's number-one selling gluten free beer brand, Omission, has landed in Australia with a Pale Ale and a Lager.
Omission is brewed and fermented like a traditional beer – using barley, hops, water and yeast – but it's the third step of the brewing process that is key, with the addition of Brewers Clarex breaking the bonds of gluten protein chains.
The company say that the result is a "well-balanced and premium brew containing gluten levels well below the international standard of 20 parts per million".
The brewers test each brew for gluten after bottling, and publish the test results on their website for drinkers to check – with a code on the label to type in.
The Omission Lager and Pale Ale are available nationally from Dan Murphy's stores and online.