This content was supplied by Darrell Croker, Senior Consultant from Purser Corporate Communication.
Adelaide will host the largest annual gathering of brewers in Australia for the Craft Beer Industry Association's (CBIA) national conference and awards from 25 to 27 July. The attendees and possible award winners will include a significant proportion of women.
Women in beer
Tina Panoutsos is the Sensory & Consumer Science Manager, Zone Technical Development, Asia Pacific South, for Carlton & United Breweries (CUB). Just like a pint, that's a mouthful. Pia Poynton is a beer blogger.
They are just two of the growing number of women involved with craft beer. Female involvement has moved beyond quirky to mainstream. More women are drinking craft beer, and the industry now boasts everything from female brewers, brewery owners to barley experts.
CUB Scientist, Panoutsos, evokes the classic explanation of real estate agents when she talks of trends in beers. In this case it's not "position, position, position" but "quality, quality, quality and consistency," she says.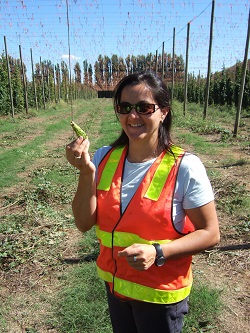 "No matter what the style, the brewery or the history – at the end of the day consumers want the reliability of knowing that their larger, ale, stout or pilsner is going to be fresh, fault free and representative of what's on the label.
"Our job as brewers is to communicate that effectively and deliver great-tasting beers whether they are subtle, low in bitterness and delicate in flavour, or assertively hoppy and bitter with robust lingering mouthfeel."
Beer blogger Poynton and scientist Panoutsos provide fascinating insights into the craft beer industry and its role in broader lifestyle and gastronomic trends such as the 'paddock to plate' phenomenon.
Poynton notes: "I am constantly reminded of what a great industry the craft brewing world is. The people in it are generous, interesting, passionate and fun. One of my favourite social media hashtags is #beerpeoplearethebestpeople. I have witnessed established brewers writing notes on a coaster for a home brewer who asked questions about their latest recipe."
Sensory and beer education
Panoutsos started off in the brewing industry with CUB as a chemist before focusing on sensory and beer education. Having worked with CUB for about 25 years she notes the changes within the beer and brewing arena brought about by the growth of good craft beer options. She conducts research into consumer preference and understanding the beer landscape from a sensory mapping perspective. Tina acknowledges craft beer is an integral part of consumer exploration and expansion and provides an opportunity to broaden consumption experiences, preferences and interests.
There is, she says, a corresponding shift in consumer habits based on different trends and interests. She aims to communicate beer flavour and characteristics and align that with consumers' sensory preferences.
"It provides us with the challenges, but ultimately rewards in offering the right beer for the right occasion," she says. "I often present at events promoting our beers; contemporary, mainstream and craft; and I always get a buzz out of introducing a beer that people wouldn't have considered trying but are surprised and delighted by the aroma, taste and overall flavour.
"I also get a buzz out of debunking myths and theories and getting people thinking about beer in a different way that engages and helps them appreciate the effort and craftsmanship dedicated into brewing; whether it's a refreshing, aromatic light lager, a rich, robust IPA or a stout. There's an occasion for every beer and an art in producing it – no matter how big or small the brewery."
Poynton believes 'craft' brings personalities, stories and greater 'flavour' to the overall booze industry. She also believes it can break down stereotypes. "Sometimes people assume that I don't drink beer, let alone might enjoy something sour or barrel-aged," she says. "But there are more women beer drinkers now. It's not just a drink for middle-aged overweight men."
She became interested in the amber ale after working at the Belgian Beer Café in Perth. "I discovered Belgian beers and their amazing history and stories," she says. Her blogging started in 2012 after moving to Busselton and exploring the many local breweries in southwest Western Australia. "They were all making great beer," she says, and she hasn't stopped blogging.
"I don't want to fill the world with beer geeks, but I do want to see people thinking about what beer they want, rather than just reaching for whatever is convenient or whatever is cheapest," she says.
Drinking trends
As for trends in the craft industry, she believes collaborations between breweries will continue as will our love of hoppy beers. "The trend to create new styles in and around pale ales will continue," she says. "Sours and lagers are trending, and beer in cans. Experimentation will always be important, such as using exotic ingredients or new methods for brewing."
Poynton thinks interest in craft beers runs parallel to the 'paddock to plate' food movement. "People are getting more interested in where their beer comes from, who makes it, where the ingredients are coming from and how it gets from brewery to glass," she says. "Beer and food have so much in common with their range of flavours, wide appeal, their place at the table and bringing people together."
Panoutsos believes the paddock to plate movement and associated interest in organic produce is another positive step in engaging consumers towards choosing beer over other beverages and reinforcing the virtues of brewing locally with the quality raw materials on our doorstep.
A beer for every palate
"It's becoming more and more evident that beer is increasingly enjoyed when consideration is afforded to the choices made in pairing beer with food and how exciting and delicious the experience can be," she says.
"Equally important to the gastronomic experience is the presentation (glassware) and the process of drinking while you eat. The experience should include taking time to smell the hops, the malt or the fruity top notes and then sipping as you eat, allowing the flavours to interact and complement each other, to balance and cleanse or to develop and linger with each bite of food."
Gender has not been an issue for the blogger. It was for the scientist initially, but only lasted for about 18 months.
"I tend to approach most things from a gender-neutral perspective," Panoutsos says, "and beer is no exception. I look at what beer flavour and general characteristics might appeal to different palates, not genders, and what occasion that beer might be suited to or how a particular style might be modified to be enjoyed by different people and in different situations.
"This can be difficult based on preconceived ideas about beer, who drinks it and why, but in my experience there is a beer to suit just about any palate, and if you don't believe that, then you haven't tried enough beers."