In this week's wrap up we've got three new beers from Mountain Goat, a limited-release Modus Operandi mango IPA, a small-batch Sauvin IPA from Wayward, and a newly-arrived amber ale from NZ brewer Mac's. 
Mountain Goat:
Trip Trap Triple IPA
Mountain Goat has released another big IPA with their new specialty release, the Trip Trap Triple IPA.
According to Mountain Goat, the rather large 10% ABV and 100 IBU Triple IPA leads with a vigorous hop aroma, bursting with citrus, tropical fruit and pine thanks to a mix of Centennial, Columbus, Amarillo and Simcoe hops.
The first taste delivers a quick flash of alcohol and pleasantly intense bitterness drives the finish.
The Trip Trap Triple IPA continues the Mountain Goat tradition of brewing interesting and limited release IPAs; recent hits have included The Zymurgist IPA, the Rare Breed Pulped Fiction Blood Orange IPA, and the Hashtag IPA.
The Trip Trap Triple IPA is available on tap at the Mountain Goat brewery in Melbourne and a selection of craft beer venues nationwide.
Barrel Breed Plum Sour Ale 
Mountain Goat must be busy at the moment as they're also releasing a sour ale this week, in a first for the brewery despite its nearly 20-year history.
The Barrel Breed Plum Sour Ale 2017 is hazy purple to the eye – with plum and oak aromas – and has a bold, upfront tartness that is followed by a lingering sweetness from the plums.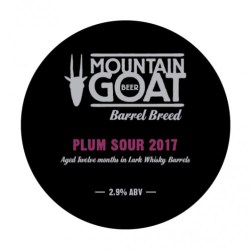 Mountain Goat say their 2.9% ABV Plum Sour Ale is best enjoyed at 4-8 degrees, "making it a real late-summer thirst quencher."
The brewery also say that the sour came about thanks to a coincidence, when a "delivery of Tasmanian Plums took a wrong turn and ended up on our doorstep," a month after they had brewed their first kettle sour.
"Since our brewers can't resist an opportunity to get a bit experimental, we transferred our kettle sour into some Lark whisky barrels and loaded in 45kg of plums… we then shipped the barrels off to a top-secret location where they remained for 12 months."
The sole keg will be tapped at the Mountain Goat brewpub on Sunday March 19, while the 250 bottles that have been produced will also be available at a limited list of craft venues – so keep an eye out!
Barn Burner Black Saison
The team at Mountain Goat have also collaborated with Brisbane metal venue CrowBar to create a saison with a dark twist.
Brewed with Belle Saison and Abbey yeast strains to keep the beer light and impart notes of spice and orange peel, a combination of cold-steeped dark malts givethe beer a deep black colour – without compromising the traditional Saison flavours. 
Mountain Goat say the Barn Burner belies its heavy image, delivering a thirst quenching dryness and rounding off with a delicate tinge of orange peel.
Clocking in at an appropriately devilish ABV of 6.66%, the Barn Burner Black Saison will be the 'karma keg' at CrowBar's Brewsvegas event, Metal Meets Mountain Goat, this Friday March 17. After that, it will be available at the MG brewery and a selection of craft beer venues in Victoria, Queensland and NSW.
Modus Operandi Veil of Pisces IPA
Modus Operandi Brewing have collaborated with Brisbane alehouse Woolly Mammoth to create a Mango IPA.
The Modus Operandi Veil of Pisces IPA (6.0%) was brewed with a proprietary hop blend and 30kg of fresh Queensland mango puree, and according to MO's Facebook page, with the "magical conditions of being brewed under the veil of the most recent new moon and eclipse." 
Distribution of the beer is very limited: the fruit IPA is available at the Woolly Mammoth Alehouse in Fortitude Valley, Modus HQ in Mona Vale (Sydney) and "discerning pubs and bars as they get snapped up."
Keep an eye on MO's Facebook announcement for a list of venues as they're announced.
Wayward Nelson Sauvin IPA
Wayward Brewing Co. have released a single batch IPA brewed exclusively with Nelson Sauvin in celebration of hop harvest season.
The "All Day Nelson" Nelson Sauvin Single Hop IPA is very lightly malted with biscuit and Pilsner malts to keep the focus on the hop character, with Nelson Sauvin used both in whirlpool and dry hopping.
Head brewer Shaun Blissett said the Sauvin hop is "one of our favourite (but nearly impossible to obtain) hops from New Zealand" thanks to its unique, fruity aromas, and describes the beer as "an absolute explosion of gooseberry, stone fruit and delicate white grape on the palate."
"We used up our full stock [of Sauvin] for this small-batch brew, so best to grab a taste of it because it's one you won't want to miss," Blissett says.
Wayward also say the beer is quite delicate tasting considering a relatively high ABV of 6.8%.
Launched at the Wayward Brewery and Bar on Wednesday night, you'll find it there and at the following locations in Sydney and Canberra:
Sydney: Local Taphouse Darlinghurst, The Noble Hops, Yulli's Bar, The Henson, The Forest Lodge Hotel, Trinity Bar, The Welcome Hotel, and Newtown Wine Shop/Growler Depot
Canberra: Debacle, The Old Canberra Inn, The Durham Castle
Mac's Sassy Red
Finally, an amber ale from New Zealand brewery Mac's is now available in Australia.
Mac's Sassy Red is a modern interpretation of a classic amber ale style, and uses only ingredients sourced from the land of the long white cloud.
Five different malts are combined with Motueka hops, resulting in a lively and intense brew, bursting with spicy flavours and aromas.
At 5.0% and 30 IBU, this is a drinkable ale driven by biscuit, caramel and stone fruit flavours – pair it with meaty and spicy dishes for a taste sensation.
Mac's Sassy Red is available online via MoCU.
Wolf of the Willows Wolf Blood West Coast Red IPA 
Wolf of the Willows have announced they will be re-releasing their popular Wolf Blood Red IPA.
The brewery say the the Wolf Blood is a true West Coast Red IPA, with "hops, hops and more hops balanced by lovely caramel malts."
"This beer is characterised by a punch of citrus, pine and stone fruit
hops on the nose followed by aromas of toasted malts. The forward palate comes with a wave of resiny hop flavour followed by a strong malt backbone, balanced by a dry rear palate and signature IPA bitterness."
The Wold Blood is a collaboration brew with Blood Hound Bar in Brisbane, where it will be launched at their Hopsfield event during Brewsvegas on March 18.
Following the release at Blood Hound Bar in Brisbane, Wolf Blood will be officially launched in Victoria at Beer DeLuxe in Federation Square on March 25 at their 'Hop Quest' event.
After that, Wolf Blood will mostly be available in the Brisbane and Melbourne markets – with limited quantities hitting NSW, SA and WA – and stockist updates to come in the following weeks.