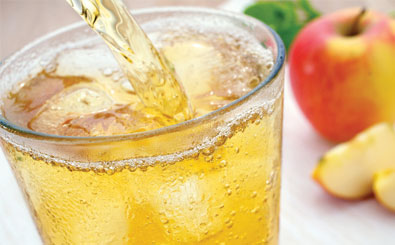 In our Summer Issue, we looked at the cider category. Steadily growing in popularity, crafted by some incredible Australian makers, an excellent match with almost any type of food AND the perfect drink on a hot summer's day…that's right it's cider time. Here is an excerpt from that feature… 
Just like craft beer, cider has flourished over the past five years in Australia. While not a new product, cider has been reinvented in recent years through clever modern marketing, a refreshing taste perfect for hot climates, and a younger generation looking for an alternative to beer and wine.
Cider's growth is in contrast to IBISWorld revealing recently that in 2016-17 domestic consumption of alcohol is expected to reach its lowest level for 50 years, with beer consumption falling from 4.51 litres per capita in 2009-10 to 3.73 litres per capita in 2016-17. Wine and pre-mixed drinks have not been hit as hard, and cider has increasingly filled the gap between beer and wine. Cider seemingly transcends industries, as it's a refreshing drink, which appeals to both beer and wine drinkers alike.
Aided by Australia's warm climate, consumer take-up of cider has seen its annual growth from 2010-2015 reach 13.5 per cent and revenue $267.9 million. It's not looking like slowing down anytime soon either, with IBISWorld forecasting that industry revenue will grow at an annualised six per cent over the five years through 2019-20 to reach $358.5 million.
REAL CIDER
While craft beer drinkers are becoming more educate and interested in malt and hop profiles, cider drinkers are also increasingly looking to make informed decisions about what's in their cider and its heritage. The obvious one is whether a cider is crafted from fruit concentrate or real fruit, with many cider companies specifying this prominently on their bottles. One such example is Bilpin Cider Co. which states on the front of its labels, '100 per cent Australian grown apples' and 'hand picked and freshly crushed'.
These days, people have access to a wealth of information online and are more concerned than ever before with the ingredients in what they consume and where they originate. Part of this may well be for health reasons, as one million Australians now follow a gluten free diet and cider is a great alternative for beer drinkers who only have a few gluten free beers to choose from.
CIDER & FOOD MATCHING
Just like beer, cider can be an excellent pairing with food. The simplest way to match the two is by looking for dishes and ingredients that you'd cook with apples, or pears in the case of perry. Anything pork works well, as do cheeses.
Another good approach is to try to identify the most prominent flavours in the cider and then match those in a dish. For instance, a crisp fruity cider will pair well with lighter meats like seafood, chicken and turkey. Whereas a traditional English or French-style aged cider can have bready almost biscuit-like characteristics, which match well with oysters and seafood.
Just like sweet wines, if a cider is slightly sweet it will take some of the heat out of spicy Asian dishes. Slightly sweet ciders like Bilpin Blush also team well with desserts like an apple tarte tatin.
The carbonation in cider works well to cleanse the palate and scrap it clean ready for the next creamy sauce or gooey soft cheese.
Something to look out for when pairing cider with food is the tannins. Much like bitterness in beer, tannins can enhance spiciness and acidity in some dishes, making them unpleasant.
Cider is also an excellent ingredient in cooking, as it can be added to the tray when cooking pork belly, added to a pot of mussels or even injected into slow-cooked meats to help keep them moist over long cooks.
To read the full article, subscribe to Beer & Brewer here.