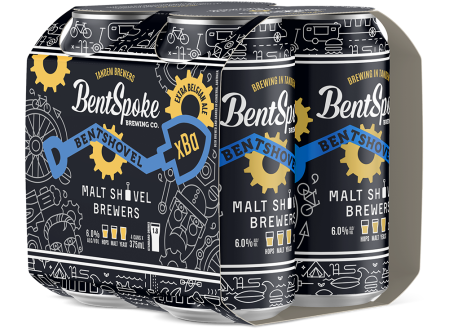 BENTSPOKE X MALT SHOVEL BENTSHOVEL EXTRA BELGIAN ALE (xBa) (6.0%, 375ML)
It's a somewhat known fact that BentSpoke's Rich Watkins' commercial brewing career kicked off about 30 years ago when he took a job under Chuck Hahn at the Malt Shovel Brewery in Camperdown – then still known as the Hahn Brewery. While studying for an engineering degree at university in Sydney he worked on the Hahn packaging line and the rest, as they say, is history.
BentSpoke has gone on to be one of Australia's biggest and most awarded craft breweries – they just celebrated the three year anniversary of their World Beer Cup Bronze Medal for Red Nut on the back of winning the 2020 GABS Hottest 100 with Crankshaft – and Rich recently told Beer & Brewer how his time under Chuck's tutelage gave him some of the founding principles to make great beer.
"I just remember how passionate (Chuck) was and how clean he wanted everything kept," Rich said. "At the time I didn't realise the importance but later on, when I started brewing in Canberra, I adopted his mantra.
"And every time he dropped in to see me he would remind me 'keep on cleaning Richard'. Now, with brewing the BentShovel collaboration between BentSpoke and Malt Shovel, it's a great way to continue the brewing friendship that now has spanned more than 25 years."
That bond sees the third BentShovel collaboration released in consecutive years but the first to be packaged in cans. The keg only 2019 release was the Extra Amber Ale – a hybrid of sorts between BentSpoke's Red Nut Red IPA and James Squires' Amber Ale – while last year's was a Belgian Blonde, thus making the 2021 iteration a somewhat culmination of the two.
And the fact this year's is an Amber Extra Belgian Ale is a nice fit as well, considering their combined love for Belgian styles, BentSpoke's particular penchant for Amber ales (especially in Autumn) and that the first ever James Squire beer commercialised out of the Malt Shovel Brewery was the Amber.
Pouring clear copper with a foamy white head the aromas are malt and farmhouse yeast driven with caramel sweetness and citrus, cherry and spicy esters complemented by a faint whiff of wood and spice from the hops.
Chuck's "cleanliness is next to godliness" mantra has obviously rubbed off on the Malt Shovel brewers as well as Rich as its body, for all its malty rigidity, is still very light, smooth and crisply refreshing. Here, a light caramel sweetness and a nutty earthiness is carried along on a frisky carbonation before finishing quenching and dry.
BentSpoke and Malt Shovel have said they hope to continue the collaboration "for many years to come" and with beers like this let's hope so.
The BentShovel xBa is out now. Head to the Malt Shovel and BentSpoke web stores for more information.