There's no hiding from it – we live in a world where something particularly hazy has gone on in terms of beer preferences. But a haze craze in Lake Tekapō, population 500, school roll 20, and located three hours drive from Christchurch in, what is effectively, the desert landscape of the Mackenzie Basin? Surely that would be too much for even Donald Trump to profess and has to be fake news?
But as it turns out, even in one of New Zealand's most remote inhabited places, that's better known for Hobbit sightings, sheep and glacial lakes, hazies are in fact big news. They have been for years in the small South Island town and there appears to be no limits to their low bitterness, tropical juice character charms with the locals and visiting tourists alike (but not quite their sheep farmers yet, but more on that later).
Tekapō's sole brewing company Burkes Brewing have just had their #Fakenews Hazy IPA (6.0%) rate amongst the heaviest of hitters in New Zealand craft brewing by placing in the coveted New World Beer & Cider Top 30 list – one of the country's premier beer awards. In 2021 the competition received over 650 entries, 100 of which were hazy beers, that were judged blind by an independent panel of 28 experts and chaired by prominent Kiwi beer writer Michael Donaldson. The best-of-the-best Top 30 has justifiably been dominated by the bigger players over its seven year history. But on occasion it throws up a story like this which wholly reflects the quality across the board in New Zealand brewing currently – no matter the brewery size or location of whence the submission originated.
New World, the award's sponsor, is a major national supermarket chain and as part of its commitment to the competition stocks and promotes the Top 30 place-getters across all of their stores for a month while its stable-mate retailers Four Square and Pak'n'Sav also have the option to sell the beers and ciders as well.
It's a big deal for your Garage Projects and your Deep Creeks, but for Burkes' founder Seb Burke (pictured above) it's an opportunity to show a discerning public that small, remote brewing companies like his can more than compete with those household names.
"For me, there's a perception in the market that great hazies are only made in New Zealand by a select few. And that's not the case," Seb told Beer & Brewer. "There are lots of great, undiscovered beers out there for people to try and if this (award) means people might travel here and discover our beer then that's a big plus for all involved."
This year was the first time Burkes had entered any of their beers in the awards let alone #Fakenews, which has been brewed on and off, but more on of late, over the last five years. Burkes, that is based out of the Tekapō pub Seb owns, the Blue Lake Eatery & Bar, currently contract brew their beers with Beer Baroness and Three Boys in Christchurch as the dream of running their own brewpub gathers speed.
Featuring an all Cryo-version hop line-up of Mosaic, Sabro and Simcoe, the judges said #Fakenews "nails the requisite stone fruit and tropical fruit flavours and delivers layers of creamy texture… great balance and easy-drinkability. A very, very nice beer".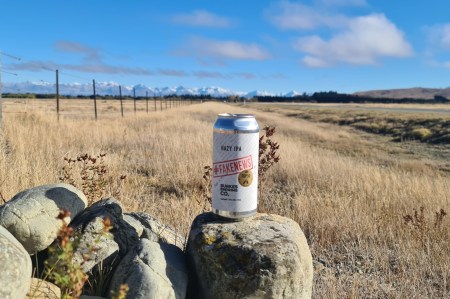 Seb said the beer's name stems from the way hazy beers were originally categorised in New Zealand, which was around the same time as the term "fake news" became part of everyday lexicon via the rise of Trump and other trumpeteers of opinion who masqueraded them as fact. They were known as unfiltered IPAs, which for Seb was a major misnomer.
"Because in fact all of the breweries were filtering them in one way or another, whether via a centrifuge or a standard brewery filter to remove the hop matter," he said. "And I guess the name #Fakenews just became more topical as the term 'unfiltered IPA' kept being used and as Trump's way came to fame too."
#Fakenews' popularity over recent years has been in line with what has happened across the rest of the country and the style finally received its own designated category in the Top 30 for the first time this year. #Fakenews and four other hazies made the list, making that style the most represented category alongside the Pale Ale.
"Hazy beers have just gone crazy – not just for us, but all over New Zealand," Seb said. "Our hazy is the biggest seller by volume ahead of our Lager now – which I never thought would happen."
"A prime example is the two ladies who run the gallery and book store next to the pub. They used to come in a couple of nights a week for an after work glass of Pinot and now they are solely #Fakenews Hazy drinkers.
"But the sheep farmers, I've not quite turned them on to the hazy just yet. I've got most of them off their Speight's and on to our Lager – which is a start. But, in all honesty, if you knew how many pints they drink on an average Friday night, you don't want them drinking a six per cent hazy!"
Baylands Brewery and Crooked Cider joined Burkes by also appearing on the Top 30 list for the first time.
Baylands, founded by Aidan and Louise Styles and brewing out of Petone on the Wellington Harbour foreshore, made the list twice, with their Offshore Bandit Hazy Pale Ale and their Sky Surfer APA.
Crooked Cider, based in Ōtaki and run by the Rae family's four daughters and mum Karis, also notched up two entries – for their Apple Cider and their Apple & Blackcurrant Cider. They were the only ciders to make the Top 30 while Zeffer Cider made the list with their Ginger Beer after that drinks category was also included in the awards for the first time.
The big winner was West Auckland's Liberty Brewing with three beers named in the Top 30 – their Knife Party IPA, Citra Double IPA and Oh Brother Pale Ale while another trifecta went to Panhead's Port Road Pilsner which made the list for the third year running, with the judges saying that made it "arguably New Zealand's best Pilsner".
Garage Project, Behemoth, Urbanaut, Deep Creek and Sawmill featured twice each in the Top 30 with Behemoth's Andrew Childs telling Beer & Brewer his result was of particular satisfaction. Behemoth had been solely contract brewers up until October last year when their production facility opened on Auckland's Dominion Rd. Andrew said the "proof was now in the pudding".
"We've gotten used to our new brewery and canning line and our beers have improved every time," he said. "They're now tasting better than ever."
Behemoth's Hoppy #3 Hazy Pale Ale and Heart of Darkness' Some Sorcerer Hazy IPA – that Behemoth brew in New Zealand under licence for the Vietnamese brewery – were two of the five hazy beers to make the Top 30.
The awards were also notable for the fact almost half (14) of the Top 30 are packaged in bottles which remain popular overall in the New Zealand craft beer and cider industry despite the preference for cans among most of the country's emerging breweries.
The 2021 New World Top 30 Beers & Ciders
8 WIRED Wild Feijoa Sour/Wild Ale
BACH Duskrider Red IPA
BAYLANDS Offshore Bandit Hazy Pale Ale
BAYLANDS Sky Surfer APA
BEHEMOTH Be Hoppy #3 Hazy Pale Ale
BONEFACE The Darkness India Stout
BURKES #Fakenews Hazy IPA
CASSELS APA
CROOKED Apple & Blackcurrant Cider
CROOKED Apple Cider
DEEP CREEK Aloha Guava & Passionfruit Sour
DEEP CREEK Redwood APA
EMPORIUM Get To Da Choppa Wit Bier
GARAGE PROJECT Party & Bullsh#*t Hazy IPA
GARAGE PROJECT White Mischief Fruited Gose
HEART OF DARKNESS Some Sorcerer Hazy IPA (brewed under licence by Behemoth)
ISTHMUS 3D IPA
LIBERTY Citra Double IPA
LIBERTY Knife Party IPA
LIBERTY Oh Brother Pale Ale
MCLEOD'S Paradise Pale Ale
PANHEAD Port Road Pilsner
RENAISSANCE Stonecutter Scotch Ale
SAWMILL Baltic Porter
SAWMILL The Doctor Dark Lager
STEINLAGER Tokyo Dry Lager
TOWNSHEND Sutton Hoo American Amber Ale
URBANAUT Copacabana Brut IPA
URBANAUT Miami Brut Lager
ZEFFER Alcoholic Ginger Beer
Head here for more details about the awards, including the judges' comments on the Top 30 and the list of the other 70 beers and ciders that round out the Top 100.