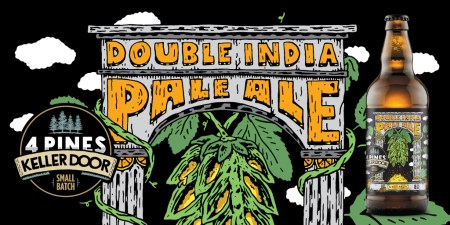 New Kiwi hop Nectaron has received its highest profile Australian outing since being officially named last year as it takes centre stage in 4 Pines' latest Keller Door small batch release.
4 Pines said they received "a colosseum's" worth of the strain previously known as Hort 4337 to put to work in their Nectaron Double IPA (8.5%, 500ml bottle) and it's a real showcasing of the hop variety while continuing the early 2021 trend of breweries revisiting classic West Coast IPAs with new world hops.
True to Nectaron's form, high level ripe fruit aromas of candied passionfruit, peach and mandarin juice are clearly defined alongside more subtle notes of pine and black currant. A deft malt backbone is the canvas for citrus flavours of zingy lime and grapefruit peel to merge with sweet pineapple, sage and spice, before it finishes oily with decent bitterness (70 IBU).
Nectaron was named by NZ Hops midway through last year after 16 years of development in conjunction with New Zealand's Plant & Food Research and has so far been predominantly used in Strong Pale Ales and IPA varieties.
Meanwhile, 4 Pines have also released the tap only Keller Door WAP Watermelon and Pomegranate Sour (5%). It is currently pouring at all 4 Pines venues and in select pubs nationwide.