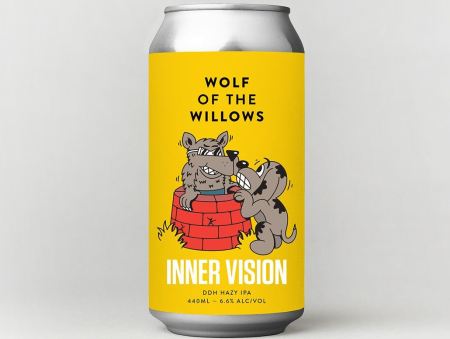 After the hard work of opening their Mordialloc taproom in November and emerging from Victoria's snap five day lockdown just last week Wolf of the Willows are no doubt looking forward to a 2021 when they can finally feel their feet on the ground and really get down to the business of showcasing what they're all about.
With bookable taproom "experiences" coming soon, the limited release side of their new year kicks off with the Inner Vision DDH Hazy IPA (6.6%) that's a little brother to last year's Double Vision Double IPA.
Where Double Vision was spearheaded by Galaxy, Vic Secret and Citra, Inner Vision features a three-pronged hop attack of Mosaic, Amarillo and Enigma that delivers subtle but distinct aromas of stone fruit, grass and pine. Tropical fruits, limey-citrus and bubblegum-candy flavours are up front before underlying earthiness comes to play too, fittingly giving off a sense of outdoor freedoms. Bitterness is there but not enough to throw this out of balance.
Perhaps its most telling feature is in mouthfeel. It goes down with almost creamy, textural ease that's been aided by the triumvirate of rolled oats, wheat and triticale (hybrid malt of rye and wheat).