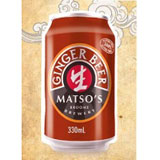 Matso's marketing team has put their thinking caps on and come up with a new packaging option for Matso's Ginger Beer – it's now available in 330ml cans. It's a deliberate step by Matso's to help capitalise on certain market segments where the traditional Matso's glass stubby isn't an option – plus they can package it into 15-pack slabs.
The 15-pack configuration has been purpose-designed to be convenient to carry, making it ideal for taking on a fishing trip, camping or simply a picnic with some mates, when a can is easier to dispose of than a bottle.
The 15-pack is available from Matso's for $54.99, or selected stockists around Australia. Check the Matso's stockist page for details of your closest outlet.