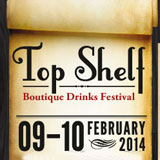 Three of the world's leading master distillers will wing their way into Australia, set up to present on the main stage of the Top Shelf festival, which launches in Melbourne in February.
It's a very rare opportunity for Australian whisky lovers to get to meet three powerhouses of the craft, with Harlen Wheatley (Buffalo Trace Bourbon, USA), Jim McEwan (Bruichladdich, Scotland) and Ian MacMillan (Burn Stewart's, Scotland) lined up to share their wisdom at the event. Mark Nicholson, from Lark Distillery, will also be on hand to present a special talk on the qualities of Japanese single malt whisky.
Top Shelf is a brand new event, celebrating premium and boutique brands and serves. The event will feature a full programme of tutored tastings and cocktail demonstrations, and will showcase the best of the Australian bar industry with bartending competitions and a pop-up bar area, with miniature versions of Australia's best bars.
Top Shelf will be held at The Royal Exhibition Building, Melbourne on 9 and 10 February, 2014, and tickets to the event go on sale shortly. For more information visit the Top Shelf website.