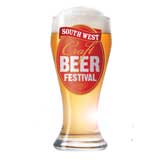 If beer lovers need another reason to congregate and drink beer – and, let's be honest, any excuse is a good excuse – then prepare to rejoice at the news that the South West Craft Beer Festival will be on in 2014, at an exciting new venue: The Old Broadwater Farm, in Busselton, WA.
The event will feature everything we love about a beer festival – the chance to meet the brewers, taste a panoply of beers, great food and local produce and plenty of entertainment to keep you busy between samples.
The South West Beer Festival will take place over the weekend of 22 and 23 February, 2014. Head to the website for more information.