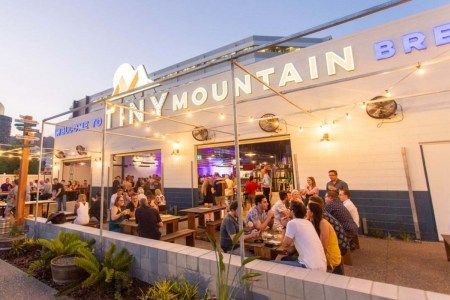 By early next month the Lion-owned Tiny Mountain brand and its Townsville brewpub will cease operating.
After becoming the Kirin-owned company's most recent brewpub-based venture back in 2020, Lion has announced it wouldn't be renewing the lease on its Palmer Street venue and last drinks would be poured on April 2. It said the entire brand will be shuttered as part of the move.
After the success of brands like Kosciuszko Brewing based at the Banjo Paterson Inn in Jindabyne and Eumundi Brewery located at its spiritual home at the Imperial Hotel on the Sunshine Coast, Tiny Mountain was originally seen by Lion as its next local-driven craft brewery that could go on to success further afield.
But as Lion's Queensland sales director Pat Donohue said in a statement: "While the venue has been embraced by locals, despite the dedication and passion of our amazing local team, unfortunately sales of Tiny Mountain have not grown as strongly as initially hoped beyond the venue".
The announcement of Tiny Mountain's demise follows Lion's initial plan to close the Boag's Brewery's tour and hospitality offer in Launceston back in January after it originally cited "overall beer consumption… decline, rising input costs and the impacts of COVID-19 on the hospitality and tourism industries" as the reasons for their decision. However, Lion backtracked following a promised $1 million grant from the Tasmanian Government to see the centre remain open and its staff keep their jobs.
Pat Donohue continued: "With the lease on the Townsville property up for renewal, we considered our options and made the difficult decision to close the venue and focus our investment in other areas.
"We will be working with our team to provide opportunities for redeployment to alternate roles across Lion or, supporting them to find alternate employment in the Townsville area through our hospitality network."