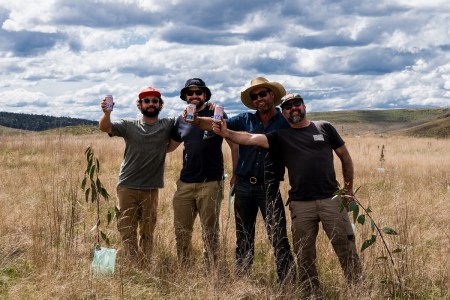 Capital Brewing has partnered with the GWS Giants to launch their 2023 Trees for Tomorrow campaign with the "Kick a Goal, Plant a Tree" program.
The initiative sees them commit to planting a native Australian tree for every goal kicked by the Giants in both the AFL and AFLW 2023 competitions and is part of their ongoing pledge to help restore the Snowy Mountains with Jindabyne-based environmental charity Keep It Cool.
Capital's Laurence Kain said: "The Trees For Tomorrow initiative has grown from strength to strength over the last two years but now that we're entering our third consecutive year, we're taking it to new levels.
"This year we're planning on reaching our target of planting 5000 trees in total – a target we set when we launched the initiative in 2021. Since then, we have planted a total of 2,036 trees, so we are well on our way to achieving our goal in 2023."
Alongside committing to plant a native Australian tree for every goal kicked, extra trees will be committed for special milestone moments expected to take place across the season through individual players and the club.
Giants forward Harry Himmelberg said: "The 'Kick A Goal, Plant A Tree' program means we'll plant a native Australian tree for every goal kicked by our teams across the season so you can be sure I'll be trying to kick as many as possible".
The trees committed throughout the program will be planted in the Snowy Mountains, in an effort to restore the region, which has been subjected to significant environmental impact in recent years.
This will be achieved by drawing down carbon and creating new habitats for wildlife, reducing soil erosion, and increasing biodiversity and the recovery of species under threat, including Eucalyptus Viminalis (Ribbon Gum), which has been subjected to significant dieback in the Snowys.
Capital will also look to roll out their original "Buy Beer, Plant Trees" program across participating bottle shops and pubs, expanding it beyond the Snowy Mountain region and into metro NSW in partnership with participating customers.
All trees committed across the initiative will be planted at Capital's annual planting day in October where the breweries staff, Giants players and Keep It Cool staff get together to plant the trees.