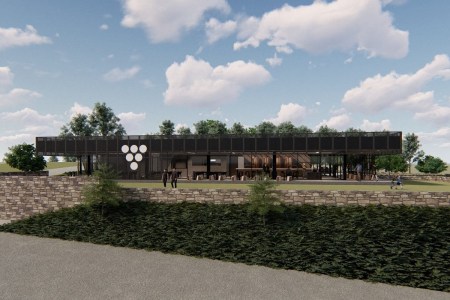 Vale Brewing's return to McLaren Vale is almost complete as their taphouse readies to open to the public in the coming weeks.
Perched high within fellow Bickfords-owned Beresford Estate in McLaren Flat, the 200-person capacity Vale Taphouse will take in sweeping views of their vineyards and the Fleurieu Peninsula location while most importantly delivering a long-awaited and dedicated consumer facing presence for the brewery.
A 10-hectolitre Krones brewkit will help service the taphouse's 14 taps while a small packaging line will allow limited runs to be packaged on-site. With a soft launch of the venue marked down for September 16, the first taphouse exclusive will be a red Vienna lager showcasing the American hop Simcoe while a hazy tropical ale and an Australian IPA are due in the coming months. Vale's core range beers, which will still be brewed at Bickfords' main facility, will also be on tap alongside sister brands Fox Hat, Three Oaks Cider and Hobo Beer. The in-house restaurant will complement the tap offering with food that showcases the region's produce.
For someone who has been with Vale since 2011, the significance of the return to their spiritual home is not lost on head brewer Jeff Wright (pictured below).
"It's been a longtime coming for people to be able to come to our true home, where you can come to the McLaren Vale wine region and try our beers," Jeff told Beer & Brewer. "It's going to be so good to have a face (to the brand). It's going to be pretty eye-opening. It's a very impressive development."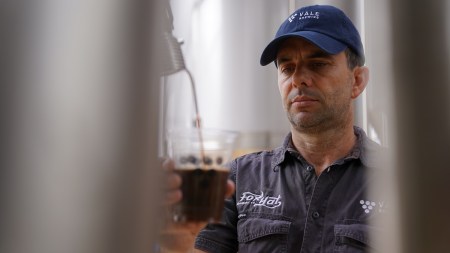 The development of the Vale Taphouse is part of Bickfords' $9.5 million investment within Beresford Estate which includes luxury accommodation due to open later in the year.
Due to its regional location, Jeff said a key beer for the Taphouse would be a low alcohol pale ale within the half a standard drink, or 1.7% ABV, range.
"We are looking at doing a super session ale that we'll be putting out in the Taphouse and in package. It's a little bit higher (in ABV) than where trends currently sit, but brewing in a traditional style is what interests us and we feel delivers a clean, finished beer."
With four tanks on site, Jeff said they won't be brewing every day, "or sometimes not every week", and, until they can determine how much beer they're selling over the bar, Taphouse production will be mainly serviced by their current brew team. Vale is also currently advertising for a brewer to work part-time on the Taphouse's micro-brewery as well as acting as a brand ambassador for the likes of tasting events.
Serendipitously the unveiling of the Vale Taphouse arrives at a time when the brewery's beers are enjoying a sustained run of awards success. After winning the Royal Adelaide Beer & Cider Awards' Champion Large Brewery trophy for the last three years straight, Vale's Tropic Ale recently picked up the World Beer Awards' title of World's Best Pale Beer.
"It is good timing, isn't it?" Jeff added. "So I guess it's a pretty good time to come try our beers at the source".
Vale Taphouse is located within Beresford Estate at 252 Blewitt Springs Rd, McLaren Flat SA 5171.