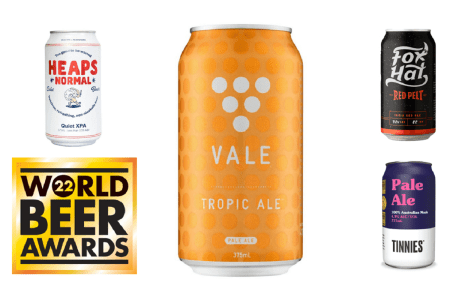 Vale Brewing's Tropic Ale has won the World's Best Pale Beer title at the World Beer Awards while their Vok Beverages stablemate Fox Hat's Red Pelt took out the World's Best Bitter over 5.5% award. Also flying the Aussie pale ale flag were Heaps Normal's Quiet XPA, which won World's Best No & Low Alcohol Pale, while the Coles-owned Tinnies brand's Pale Ale was named World's Best English Style Pale Ale.
After winning the World's Best Bitter up to 4.5% category, Vale's 4.2% Tropic Ale was then judged the overall pale beer winner ahead of 15 other breweries, including Leffe's Ambrée and Grolsch's Krachtig Kanon. Fox Hat's India Red Ale's World's Best Bitter over 5.5% trophy came ahead of New Zealand's Cassels Brewing's Nectaron IPA and Lefebvre's Dikkenek Belgian IPA.
Heaps Normal's win means their Quiet XPA went one better than last year when it won the 2021 World Beer Awards' no and low alcohol pale ale country winner title.
For co-founder and head brewer Ben Holdstock it's "a big win for the recognition and growth of the (non-alcoholic) category, especially here in Australia".
"We are super stoked and grateful to be recognised with this award. We're continuously focused on improving our beers so it's great to see that work pay off," Ben told Beer & Brewer.
Meanwhile, Cassels Brewing's Milk Stout won the World's Best Milk Stout title for the third time in four years after wins in 2019 (when it won the overall world's best stout trophy as well) and in 2020. It also follows their APA winning the World's Best Pale American-style Pale Ale award at last year's event.
On a social media post, Cassels' head brewer Simon Bretherton (pictured below, fifth from the right with the Cassels team) said: "To win a major global beer award is in itself a huge deal, to win one for four years in a row is a colossal achievement and one that we are incredibly proud of. We have a highly talented, passionate and hard-working brewery team who always strive to produce high-quality beers, winning these awards is a great way to celebrate their efforts and we couldn't be more proud of them".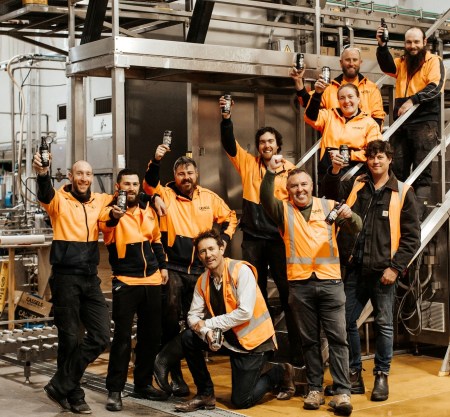 This year The Drinks Report-run awards received 3,200 entries from 50 countries which were blind tasted in three rounds of judging.
Chair Adrian Tierney-Jones said in a statement: "This year the World Beer Awards returned to being judged in person after two years online and I would like to thank the many judges who applied themselves to their tasks with diligence and great professionalism."
Australian breweries also found success at last year's World Beer Awards where Brick Lane's Revolver Dark Hoppy Ale won World's Best Porter while O'Brien Beer's Belgian Ale took out the World's Best Specialty Gluten-free category.
Head here for the full 2022 World Beer Awards results.