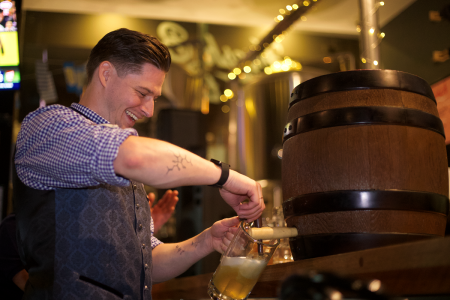 While Bavarian bierfests are becoming as common as footy finals at this time of year Down Under, few Oktoberfest celebrations in this corner of the world can match Burnley Brewing's for authenticity as they ready to kick them off on September 15.
Starring 12 traditionally brewed German beers – including their Helles tapped from a firkin that's been aged for four weeks – highlights to be found at their Richmond brewpub will be the opening night party on September 15 followed by the ringing of the bell which traditionally marks the beginning of Oktoberfest. There's even free beer for those flaunting their dirndl or lederhosen.
Head brewer Michael Stanzel (pictured above tapping the firkin), who was the first Australian to complete the Brewer and Maltster apprenticeship at Germany's Ferdinand-von-Steinbeis-Schul, said they want to recreate the festival as close to its origins as they can.
"When I was living in Germany I went to Oktoberfest pretty much every year and the atmosphere was so infectious. We want to share that with Melburnians, and if we can teach someone a thing or two about the beers, even better."
Burnleys kitchen will offer a special Oktoberfest menu for each day throughout the fest featuring Wiener Schnitzel, Bretzel and Flammkuchen (German Pizza) alongside their regular menu of stone-fired pizzas and more.
For more information on what Burnley have planned, head to their website.