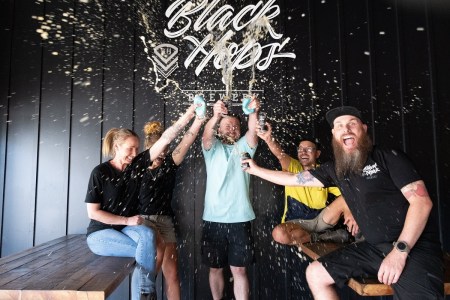 South East Queensland's Black Hops Brewing has kept its spot as Australia's best craft brewery in the country's largest survey dedicated to the industry.
Returning for a sixth time after a two year gap since retailer Beer Cartel last conducted the Australian Craft Beer Survey, the 2022 results were also significant for highlighting non-alcoholic beer's increased popularity and that buying online remains high despite pandemic-related restrictions on trade being a thing of the past.
The data, which was garnered between July and September last year, found that annual alcohol-free beer consumption increased from 15% in 2020 to 32% in 2022 while 57% of respondents said they'd purchased beer online in the last 12 months, up from 53% in 2020 and 40% in 2019. Brewery websites are the most used online purchasing channel, followed by specialty beer websites and mainstream liquor sites.
For the sixth consecutive survey pale ales came out on top as Australia's most popular craft beer style with 82% of respondents saying they'd consumed them during the previous year. But close behind in second on 78% were hazy IPAs which surged 13% on 2020's results. New England-style IPAs and lagers (up 2% to 60%) were the only two beer styles surveyed to see an increase in consumption.
A beer key to that hazy invasion is Black Hops' G.O.A.T – one of two hazy beers to crack the most recent GABS Hottest 100 poll's top 10 and no doubt a factor in the brewery retaining its top spot from 2020 as Australia's best craft brewery.
In a continuation of their meteoric rise since founding in late 2019, Mountain Culture jumped 18 spots from the 2020 results to surge in behind Black Hops while BentSpoke (ACT) placed third, Dainton (VIC) fourth and Capital Brewing (ACT) rounded out the top five in a great all-round result for breweries in the nation's capital.
Black Hops' taproom in Biggera Waters on the Gold Coast was also voted Queensland's top brewery venue alongside Mountain Culture (Katoomba, NSW), Capital (ACT), Bridge Road (VIC), Hobart Brewing (TAS), Big Shed (SA), Beerfarm (WA) and Beaver Brewery (NT).
Beer & Brewer's Beer Venue of the Year winner in 2022 Carwyn Cellars also came out on top as Victoria's favourite beer venue while Brewski (QLD), Grain Store (NSW), Old Canberra Inn (ACT), The Winston/St. John Craft Beer Bar-tied (TAS), Nola (SA) and the Dutch Trading Co (WA) were the winners in their respective states and territories.
You can view the full survey results here.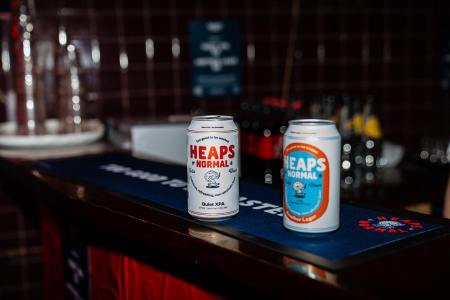 The new normal
Reflecting on the tangible growth in alcohol-free beer purchasing with Beer & Brewer, Beer Cartel director Richard Kelsey said they saw the category "accelerate" in popularity in mid-2020 with the arrival of Australian brewing company Heaps Normal's Quiet XPA.
"The (craft beer) landscape has changed fairly significantly in two years, having gone through Covid and now we're on the other side, where the thought of being stuck at home is kind of no longer there," Richard said.
"But there have been all these big macro-economic changes going on – the war in Ukraine, inflation, interest rates and how the world operates. So it's good timing to see how things have changed (in the beer world), not just since the last survey but the 2019 one as well.
"One of the big outcomes is the growth of alcohol-free beer. When we last did the study it was barely coming to the fore, but from there it's just exploded.
"(The growth) is completely reflective of the quality of products out there," he said, adding Beer Cartel currently has 23 different non-alcoholic beers in stock.
"You have exceptional alcohol-free beers now, but if you go back to 2019, or even when we last surveyed in 2020, there were so few.
"I have one most nights of the week and it's my way to be conscious of my consumption but also reward myself at the end of a day… It's almost like the Pavlov's Dogs thing – you're still cracking open a good beer, it doesn't really matter if it's alcoholic or not."
The 2022 survey found that alcohol-free beer experienced significant increases across all consumption frequencies (eg. weekly, fortnightly, monthly) and that whilst in 2020 just 3% of respondents were drinking the category on a weekly/fortnightly basis, this has now increased to 10%. However, full-strength beer (4%+ ABV) remains the most consumed category, with 87% drinking them weekly/fortnightly.
Backing up Richard's and the survey's insights, judge Steve Henderson said after the recent Royal Queensland beer awards: "One of the areas that improved the most was non-alcoholic beer, which has just gone from strength-to-strength. You don't even know they're non-alcoholic beers when tasting them – it wasn't like that a few years ago".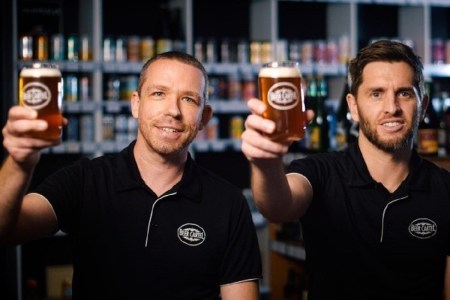 The future of the survey
Part of the reason for the two year gap between surveys, compared to it being staged annually from 2016 and 2020, was the fact Beer Cartel concentrated a lot of their spare resources on conducting a successful crowd fund back in mid-2021. But it also takes up a lot of time in general for a business that has been at the forefront of the trend towards buying craft beer online.
Richard (pictured above on the right with fellow Beer Cartel founder Geoff Huens) said they "definitely" want to see the survey continue but that perhaps the two year gap would become the norm.
"While it can be time consuming to produce and require a fair bit of thought, it does help the industry. This is information that a lot of these breweries wouldn't otherwise have access to, which was a key reason why we started it in the first place. It would be great to keep it going."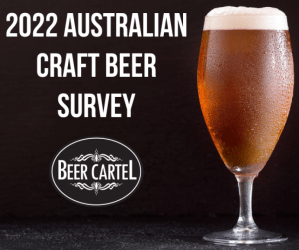 Other key takeaways from the survey
More than 14,000 Australian craft beer drinkers took part in the survey, down from almost 17,000 in 2020 and 23,000 in 2019.
The average weekly spend on beer of $56 remains largely in line with surveys prior to Covid.
Compared to 2019 there has been an increase in those that frequently buy new/limited release beers. Core range beer purchase frequency in comparison has had minor growth amongst those that buy them every few months or more often. (The core/limited purchase behaviours of respondents wasn't canvassed in 2020.)
The number of people going to mainstream liquor stores and visiting specialist craft beer bars/pubs has dropped by a large proportion – 12% and 13% respectively.
There were signs within the data that a Covid hangover remains as while 13% state they are going out more compared to pre-pandemic times, 43% were going out less. (Richard expected that 43% figure would come down significantly if a new survey were to be conducted as the 2022 results reflect data taken between July and September last year.)
Overall awareness of the Independent Seal from the Independent Brewers Association continues to grow – now 64% compared to 60% in 2020, 41% in 2019 and 33% in 2018. In 2022 63% of respondents said the seal has either a larger or medium influence on the beers they buy.
91% (down by 1% from 2020) believe the quality of craft beer in Australia is improving.
You can view Beer Cartel's full survey results here.
---