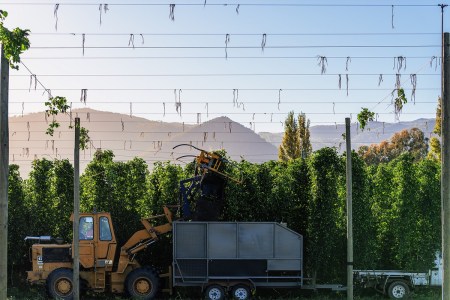 Decisions made back in 2019 by Australia's largest hop grower are now bearing fruit as Hop Products Australia (HPA) report they've had their largest harvest in a decade across their three growing farms.
The recently completed $35 million expansion project announced back in 2019, that included the planting of 300 new hectares of in-demand Aussie hops, has helped deliver HPA a 130 metric tonne (8.4%) net increase on last year's harvest across their six proprietary hops Eclipse, Ella, Enigma, Galaxy, Topaz and Vic Secret – as well as Cascade. A total of 810 hectares were harvested which produced 1,656 metric tonnes of hops.
The bumper crop has been matched by the alpha acid and oil content in all of them being equal to or above the five-year average.
Speaking with Beer & Brewer, HPA's head of sales and marketing Owen Johnston said a second straight La Niña weather event "was tough" but that it reinforced the reasons they expanded when they did by establishing a third farm in Victoria's Buffalo River Valley.
"Absolutely, hands down, it was mission critical to fund that expansion and to grow in line with the uptake of our hops and the growing success of our brewers," Owen said.
"We're achieving year-on-year increases in Galaxy, Eclipse and Vic Secret volumes – our three top-tier hops – and we justify ourselves and say 'this is why we expanded'.
"We are bringing more in-demand Aussie hops to market every year and without a shadow of a doubt it was mission critical to expand when we did. We've executed that successfully and we're now in the (expansion's) final phase and by 2024 we'll be enjoying full productivity of that program."
The 300 new Buffalo River Valley hectares of Galaxy, Eclipse and Vic Secret are expected to reach commercial maturity by 2024. At that point HPA's newest proprietary variety Eclipse is forecast to have almost doubled on this year's volumes (94 metric tonnes) to reach 180 metric tonnes and become their third biggest hop.
"What we did with Eclipse, in bringing it to market, was more successful than we hoped," Owen said. "Its profile has been lifted with the end user – the drinkers of beer – and I think we've actually placed it well ahead of the pack in terms of its broader awareness.
"It's leap-frogged some of our other varieties in terms of public awareness and it's now up there with Galaxy. Galaxy has a brand equity with beer drinkers and I think Eclipse does too now and it's only been round for 18 months. That's unprecedented success for us."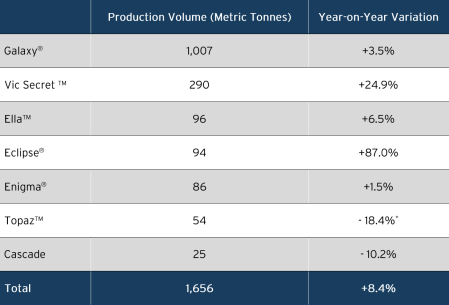 A key component of HPA's expansion project was the establishment of a new processing facility at the Buffalo River Valley farm that effectively doubles their total processing capacity. It houses an additional two picking machines, 12 kiln floors, a conditioning floor and a bale press.
HPA's managing director Tim Lord said in a statement: "Our increased capacity allowed us to process all hops in a timely fashion, as well as creating more chances for employment, skills development and priority purchasing of local products and services in our growing regions".
HPA said demand for their hops remains high, meaning the 2022 crop was already well contracted.
Owen told Beer & Brewer: "If (breweries) have core products that rely on our hops, firstly thank you very much, but secondly, to ensure we are aligned with their needs, they have to tell us.
"We have to have conversations, and our instrument of contracting is how we crystallise transparent demand."