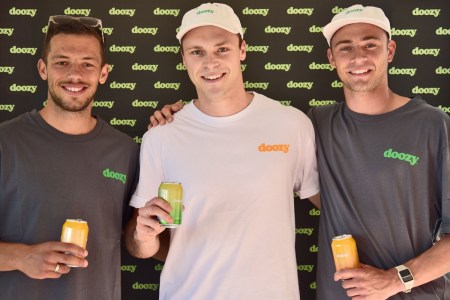 Sydney Swans players Ollie Florent and Will Hayward, alongside advertising agency Richards Rose, have teamed up on doozy – a seltzer-like alcoholic sparkling water – as the "better for you" adult beverage category gathers pace Down Under.
After seeing the rise of hard seltzers in Australia last year precede the onset of demand for healthier alcoholic beverages, the Swans players, and Harry Hayward, decided to launch doozy with Richards Rose's CEO Digby Richards.
The recipes were developed by former Carlton & United brewer Mick Jontef and are produced via contract at Tribe Breweries.
"When Will and I were in lock-down hubs playing AFL last season, we had plenty of time to dream up a business," Ollie said. "We had seen the explosion of seltzers in the US and felt there was a way to do it better in Australia. We then met the team at Richards Rose and decided to join forces an establish doozy using our own seed capital to make 5,000 cases and start selling at the right venues.
Digby added: "Using a colloquial term like 'doozy' just brings a smile. It's an easy going attitude and we have deliberately kept the brand mainstream with colours, identity and flavours versus trying to be too narrow and trendy. Our plan is for the long term and for doozy to turn up in other categories where people are craving a lighter style and attitude with their drink choices".
doozy has launched in two flavours – lime and mango – and will be distributed through independent retail and bars as well as nationally with Boozebud.