It has the cleanest citrus character of any of the hops we have on offer."

HPA's Simon Whittock
Hop Products Australia (HPA) have named their latest proprietary variety Eclipse®. Formerly known as HPA-016 – its arrival adds considerable weight to their hop portfolio that already boasts the likes of Galaxy®, Vic Secret™, Ella™ and Enigma®. We spoke with the HPA team about Eclipse® and what brewers and consumers can expect from it.
Hop Products Australia (HPA) see their mandate in the brewing community as one of presenting choice and variety for brewers to create the flavour profiles they want. But when breeding programs for potential new varieties take years to develop, yet beer styles and consumer preferences can spring up out of nowhere, this is far easier said than done. Which makes Eclipse's® breeding journey all the more remarkable. Their latest proprietary variety began back in 2004 as an idea but now goes forth into the world with profiles that capture the zeitgeist of what many of today's beer styles are screaming out for. Talk about timing.
"It's a bit of a tightrope we walk," HPA's Head of Sales & Marketing Owen Johnston said.
"If we want to try to find something that fits a new trend, or breed to a specific flavour agenda, that is a serious challenge and it takes many, many years."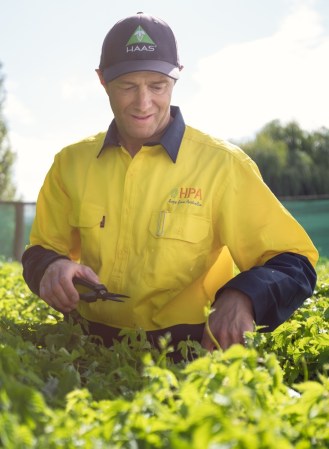 For HPA's Manager of Agronomic Services Simon Whittock, Eclipse® "ticked all the boxes" as far as he was concerned five or six years ago. If it weren't for Galaxy® – their hop variety in most demand – Eclipse's® unveiling would have come along a lot sooner.
"With Eclipse®, we've known we've had a good thing for a long time and probably would have liked to have seen it in the market earlier. But we had to fulfil the promise on Galaxy®," he said.
Ash Hazell, Colonial Brewing Co's head brewer, used Eclipse® in their Pioneer IPA all the way back in 2017. He said it was "the best beer" he's ever brewed and that "the full spectrum of hop character" they extracted "was unreal".
Over the proceeding years a veritable who's who in the Australasian brewing community got their hands on limited supplies of the extremely versatile Eclipse®, often with remarkable results in everything from core ranges to limited releases. Each time it has been almost immediately identifiable in those releases because of the mandarin-citrus-forward characteristics it imparts.
"It does what it says on the label basically, and we've seen it in single hop IPA settings, where it's made a stark impression of what it is all about, but also in lighter beers like American Pales, where its subtleties have been showcased," Owen said.
"We've spent five years cranking up Galaxy® production and the whole time the impetus behind adding another variety to our portfolio of flavours has been building.
"Now we're pulling the trigger on the new variety because we value that original mandate of presenting choice back to the brewers to create new flavours.
It couldn't be in a higher consumer acceptance space right now. It's right on point for the modern trend, whether it's hazy or straight up and down IPAs – it's going to sit right in the zone."

HPA's Owen Johnston
While sharing some of the characteristics of Galaxy®, Simon said the new variety eclipses it in terms of its citrus attributes.
"It has the cleanest citrus character of any of the hops we have on offer," he said.
"Eclipse® doesn't carry that same dank character (of Galaxy®). It really represents that orange citrus better than anything else."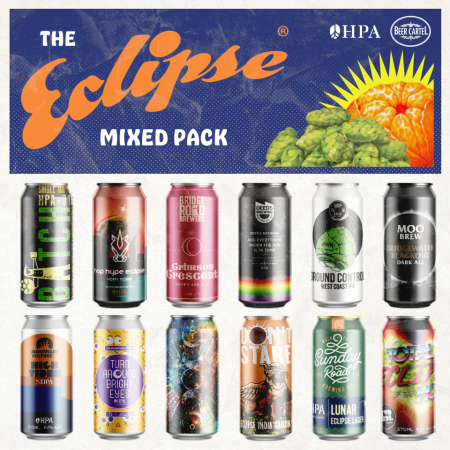 To celebrate the commercialisation of Eclipse®, HPA have partnered with online craft beer store Beer Cartel and a bevy of local breweries to create a special mixed pack.
Head to the Beer Cartel website to buy.
The Eclipse® mixed pack includes 12 limited edition beers from the likes of Deeds, Hop Nation, Moo Brew, Mountain Culture, Mr Banks and Two Birds and will demonstrate the new hop variety's versatility in everything from high impact hazy NEIPAs to lighter IPAs.
"(This pack) answers all the questions about what Eclipse® is capable of and it has a very broad spectrum of beer styles – from Saisons to NEIPAs," Owen said.
"It's going to be a real journey of Eclipse® and an insight to how it can be used in the brewing process – from high doses, low doses, how it interacts with yeasts, how it interacts with other hops, its performance in the bio-transformational setting and more."
Eclipse® is currently only available in the Australian market, but will start to reach the rest of the world in commercial quantities from crop 2021. Stock will be limited for the first few years while HPA sustainably scale up production. Forward contracts are encouraged to secure supply.
The leading hop grower in Australia, it's backed by a team of experts in plant breeding, farm operations, customer service and brewing support. Their farms have been growing hops for more than 150 years, but they're focused on creating new aromas and flavours that will make a drinker's favourite beverage even better. They're also regional representatives of the global BarthHaas group which means they can share their hops with brewers around the world, and bring a great range of international hops and advanced hop products to brewers throughout Oceania.