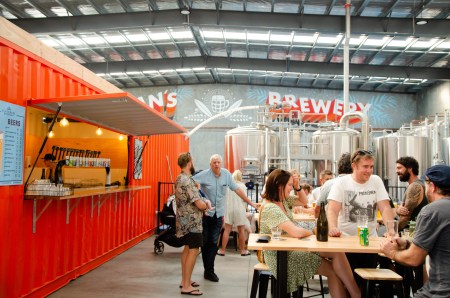 Blackman's Brewery are heralding local support as one of the main reasons they're opening the doors of their new taproom and production facility to the public today in the Geelong suburb of Grovedale.
The expansion sees the 2019 Australian International Beer Awards Champion Small Brewery significantly increase their production capacity and open an all new taproom to join their original venue in Torquay and their Burger Bar in Ocean Grove. The Blackman's Brewery Geelong opens at 5pm AEST today (April 8).
Co-founder Renn Blackman told Beer & Brewer he originally looked at taking over the 800m2 warehouse on Geelong's fringe back in early 2020 as the brewery in Torquay, that was established in 2013, was not keeping up with demand.
"The Torquay brewing space was made to brew about 100,000 litres of beer a year and we've ended up doing about 450,000 litres. We needed a bigger space and we found that in Geelong and we wanted to have a hospitality venue attached to it and there was space for that too," he said.
"I originally looked at the space in January or February last year. And then COVID happened and I went to the landlord and went 'nah mate, sorry, I'll talk to you at some point down the road. I have no idea what's on the cards now'."
Blackman's would then bide their time as they navigated through the uncertainties of COVID. Thanks to JobKeeper they were able to retain their staff as they pivoted to takeaway sales which were duly snapped up by supporting locals.
"Then as venues started to open up again the support for local beer continued. It affirmed that we could still go down the path of doing it. Just as long as we keep selling beer we'll be fine!
"It's pretty exciting and amazing to be coming out the other side of what COVID was and I think we've got the local support to be thankful for and the fact that they kept drinking beer throughout last year."
They've installed a 25 hectolitre brewhouse and a new Codi canning line with the capacity to brew a million litres per year.
They'll still brew on site in Torquay but the new facility will be dedicated to major production and the 800m2 warehouse means they have room to expand further should they require.
"Having some wiggle room was the plan. We've signed a 20 year lease so we have plenty of time and room to add more capacity if required," Renn said. "And the reason we went with 25 hec is we wanted to keep the beer fresh and that's a good volume for those purposes. If we had gone up to a 50 hec that would perhaps have been too big a step up. But we have the room to change that down the road should we need to."
Alongside some of the tanks currently in use at Torquay, Blackman's barrel program will likely to move to Grovedale also. Renn said it had been somewhat put on the backburner last year as they channelled their energies into the main revenue streams critical to the business. But he added "once we've got our heads around this new place we should be able to dedicate a lot more time to it, which will be exciting".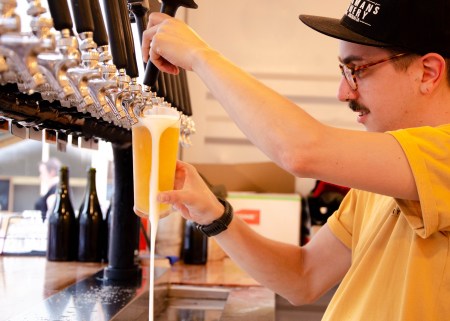 The new taproom is the realisation of a long-held dream for Renn to provide a space for people "to enjoy a beer sitting amongst the tanks". It was something he said was never really possible in Torquay but at Grovedale it was "the main focus".
"It's pretty much my favourite thing – to have a beer in a working brewery and that is certainly what people will be able to experience here."
Patrons in the the 100 seat bar will have 16 taps to choose from while the food on offer is currently the same as what Blackmans provide at their Ocean Grove Burger Bar. Renn said the eventual plan was to host rotating food trucks or have someone cater the venue on a more permanent basis.
The new Blackman's venue will be part of Melbourne's Good Beer Week tenth anniversary celebrations when they kick off in May. Alongside hosting events at their other venues, Geelong will host the Australian/International Ping Pong Tournament on May 16.
"Hopefully it becomes a household brand in Geelong. Which we were already working towards when we had the Good Beer Bar in Geelong (which they closed down when they announced they were opening the new brewery).
"That showed us just how much you get a community feeling and people get around it. And this is just going to be the next level of that because it is so much bigger and people will be able to really capture what we're all about."
Blackman's Brewery Geelong can be found at 29/8 Lewalan Street in Grovedale. It is open from 5pm until late on Thursdays and Fridays and from 12pm until late on weekends. blackmansbrewery.com.au