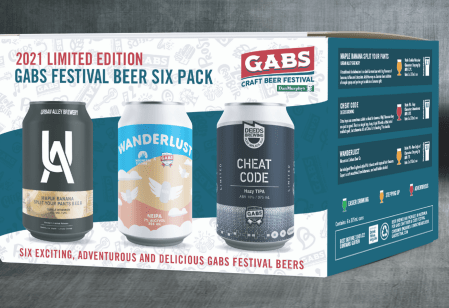 The GABS Festival vibes live on in 2021 with the organisers releasing a limited edition six pack featuring the likes of Dainton, Mountain Culture and Deeds.
Coming hot on the heels of successful events in Sydney, Melbourne and Brisbane, the GABS Festival Beer Six Pack is being sold for $34.99 exclusively through Dan Murphy's and comes with a $10 GABS beanie discount. Also, if you take a selfie with the six pack and follow and tag @gabsfestival you can go in the draw to win 10 tickets to a GABS session of your choice in 2022.

What's in the pack
DAINTON BEER AMPLIFIER CRANKED-UP HAZY IPA (8.0%)
Dainton has turned the dial up to full, and let rip. Citra, Mosaic Sabro and Strata hops, on top of a rich and creamy base. Expect a tropical party of citrus, guava, and banana flavours.
BRIGHT BREWERY AVIATION COCKTAIL SOUR (5.9%)
This collab with Reed & Co Distillery has a distinctive purple hue from locally foraged pea-flower. It's made to reflect the namesake cocktail, so you can expect gin botanicals and a sour refreshing finish.
URBAN ALLEY MAPLE BANANA SPLIT YOUR PANTS DUNKLES WEISSBIER (7.2%)
A traditional dunkelweizen is a dark German beer with big flavours of banana, toffee and chocolate. Add the very un-German beer addition of maple syrup and you've got a delicious banana split.
DEEDS BREWING CHEAT CODE HAZY TIPA (10.0%)
Citra hops are sometimes called a cheat for brewers. Why? Because they are just so good. This is a single hop, hazy, triple IPA with a little bit of malted spelt, but otherwise it's all Citra. Is it cheating? You decide.
SEALEGS BREWING SUNDAE BEER IMPERIAL STOUT (8.5%)
Full of everything you want on an ice cream sundae: chocolate, caramel, coffee, peanut butter, berries and vanilla. It's a big stout, with lots of decadent flavour.
MOUNTAIN CULTURE WANDERLUST NEIPA (7.0%)
An indulgent New England-style IPA, it bursts with tropical fruit flavours. Expect a soft mouthfeel, low bitterness, and well hidden alcohol.