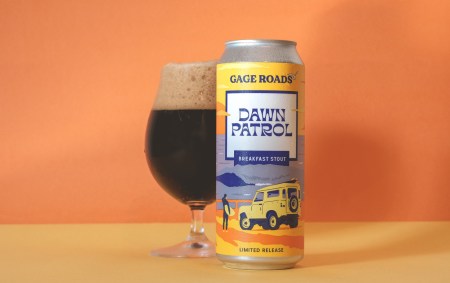 GAGE ROADS X TWIN PEAKS COFFEE ROASTERS DAWN PATROL BREAKFAST STOUT (6.0%, 500ML)
Three months ago Gage Roads went to the public with their You Vote We Brew competition where beer lovers could decide from four different styles created by four of their brewers to be its next limited release.
On the campaign trail was Samson Saggers' Smoked Porter, Tim Bransby's Black IPA, Ruaridh Atkins' Dark Lager and Josh Masters' Breakfast Stout and after thousands of entries it was the latter who got bragging rights at the WA brewery.
At the time Josh said Breakfast Stouts were one of his favourite beer styles and he'll no doubt sway a few more to agree with him going on Dawn Patrol's attributes.
Brewed in collaboration with Perth roastery Twin Peaks, and utilising a naturally processed, Brazilian Yellow Bourbon variety, Dawn Patrol makes you literally wake up and smell the coffee. A lively, roasty ground bean aroma guides you in where you'll find a light dusting of dark chocolate and alcohol warmth lurking deeper within.
Balanced carbonation provides a cola-like experience – in both its smooth texture and flavour – before the fresh coffee and the just-the-right-amount-of-sweet bitter chocolate traits return to dry and lengthen a glossy finish.
It might not sway aficionados like Agent Dale Cooper to part from his "damn fine cup of coffee" – but it'll go close.
Released nationally, Dawn Patrol Breakfast Stout is available on tap and in 500ml cans. For more info on the release, or to find your local stockist, head here.