Our Winter edition's cover feature celebrates the 50 year brewing career of Dr Charles "Chuck" Hahn – who having spent a decade with the Coors Brewing Company in Colorado moved to Australia in 1981 and has spent the last 40 years helping to change the face of beer in this part of the world. Republished here, we talk to the man himself about how it all began and when it might end, but also to a number of key figures who have rubbed shoulders with him over the years.
Everything I have accomplished over the many years have been real team efforts. I have a good palate for beer and lots of good ideas but it's always the people you work with and train that then really perform and support you," Chuck Hahn
A little over 40 years ago, in the where would you rather be place of Bondi Beach in January, a then 35-year-old Dr Charles "Chuck" Hahn, who had never been to Australia before, knew very little of the place or its people, let alone what its beer scene was like, sat eating fish and chips, looking over all that was before him, and thought to himself: "I reckon I could live here. This is a bit of alright."
Having spent the 10 years previous working in his American home town of Colorado at the Coors Brewing Company, he had been headhunted by the firm Egon Zehnder in the hope he would help oversee a redevelopment and modernisation program worth over a hundred million dollars at Tooth and Co – the one-time biggest brewing operator in New South Wales.
Tooth had brought him out to Sydney to see if they could tempt him away from his beloved ski slopes in the Rockies to make one of the world's longest distance sea changes. Chuck had no comprehension of what the next four decades would bring him – the victories and the defeats – but for the similar lifestyle reasons that he got into brewing in the first place it didn't take long before he was sold. And the beer and brewing landscape in Australasia, for he's influenced what Kiwis think of beer too, would be forever changed by his decision to stay.
People aren't drinking as much beer these days but they are certainly enjoying it more. I'd like to think I've had a part to play in shaping that."
Talking to Charlie Papazian about Chuck – from one godfather of beer about another – he told me his "unparalleled enthusiasm for brewing and exploring great beer was contagious" and therein lies a huge reason why we're celebrating a brewing career of such longevity and high achievement.
Chuck is incredibly passionate about what he considers to be his hobby, not his job, and he wants you to share in that love affair. By all accounts he's always been like that, not just with the Charlie Papazian's of this world – the former president of America's Brewers Association and founder of the Great American Beer Festival – but with every one who has worked with him or had the opportunity to learn from him.
It's the reason that he isn't sitting behind a desk or retired but rather to this day fully active in the operations at Malt Shovel and at Kosciuszko Brewing while also looking ahead to what's next – whether that is the latest brewery start-up, new venue or new beer.
"I was a brewing technocrat for many years but now I'm more in my element of getting people to realise the flavours in beer, how to taste that and talk about that," Chuck said. "I like to say 'slam it down slowly' – savour
those flavours, smell those aromas, enjoy it all. People aren't drinking as much beer these days but they are certainly enjoying it more. I'd like to think I've had a part to play in shaping that."
Chuck's start in brewing came from crossing the road from the Colorado School of Mines, where he was doing his PhD in chemical engineering, to write up his papers with beer in hand in the Coors brewery's tasting room.
Like most university students of the time he discovered a love for beer but more so he realised he had a better palate for it than most and that his engineering knowledge was more than complementary. When a job offer came in 1971, that would have taken him away to Texas in a petro-chemical role, he realised where his priorities – and his passions – lay.
"I didn't want to move down there so it was a bit of a lifestyle decision in the beginning. At that time I was doing a lot of skiing and mountain climbing and I wanted to stay in the mountains. So somehow I was able to create a job for myself at Coors. They were just starting up their R&D department and I was able to get involved with that and I did product development work on all their new beers. But it was also at a time when Coors was witnessing massive growth and they were spending 40 to 50 million dollars every year on new equipment and I was responsible for the installation and start-up of all of that.
"It was an incredible learning phase for me as I was intimately involved in so many aspects of a brewery that was going through extraordinary growth – even down to working across the waste treatment plant and the packaging line. It gave me real background experience."
It's little wonder Tooth and Co came knocking.
Chuck said he would have been more than happy "just soaking it all up" at Coors but there was a "sense of adventure" in heading to Sydney in 1981.
"I came out here and it was quite a change for me compared to Colorado. All of a sudden I had 13 unions to deal with, any one of which could have shut down the brewery. But within a year and a half we had brought that down to two unions. I had my life threatened and I had a couple of strikes… but it was a good introduction to the way some things were done."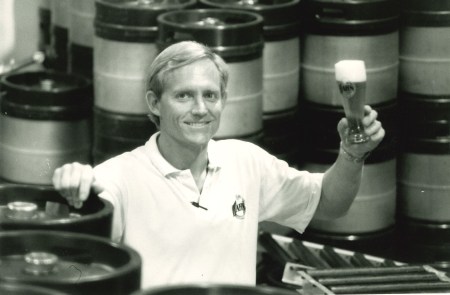 What was Australian beer culture like in 1981?
Chuck: "I was amazed – you'd walk into a bar and there would be four or five fairly similar beers on tap. It was all men in the Public Bar and the ladies would be out back in the Ladies Bar. In some pubs they'd even pass the women drinks through a hole in the wall. It blew me away. There was no beer culture at all. Beer was the culture – it was a case of 'just drink it'. I think we started to change the culture at Tooth and Co. I realised people were drinking on the job too much. The union delegates would be so drunk by midday you couldn't talk to them. We eliminated drinking on site and gave everyone a carton of beer a week to compensate. There was a strike over that but it was the only way to go."
Seismic shifts
In 1983 Chuck moved to New Zealand when he was hired as a consultant by one of that country's richest men at the time and Lion Nathan's then managing director Doug Myers who wanted Chuck to "make him better beer".
In his four years in the Shaky Isles he would enhance his knowledge base of every aspect of a brewery's operations – from auditing them right down to climbing into tanks to make sure they were cleaned properly. Coupled with his now refined understanding of what beers would suit the Australian palate – but also challenge them – it was time to put all he had learned into practise. Along with three venture capital partners Chuck would emerge from his technocratic past and establish his namesake brewery in Sydney's inner west.
"I wanted to set up a brewery that was the ultimate in cleanliness and had all of the right things happening from an equipment point of view. Cleanliness is next to godliness… and people just marvelled at the quality of the Hahn Brewery back then."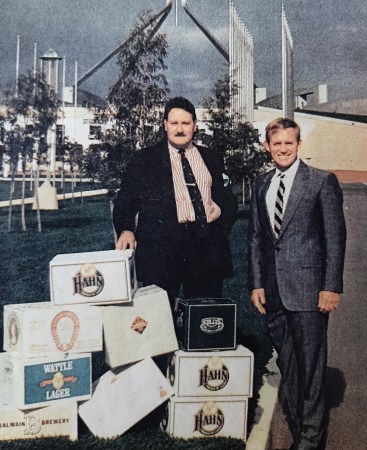 Positioned as a German-style pilsner with the benefit of being fresh because it was brewed domestically, their flagship beer was Hahn Premium Lager – designed to be in direct competition with Crown Lager.
"We were the first craft brewery of that size, but back then we didn't call it 'craft' we called it 'boutique'. And boutique beers made up less than one per cent of the market.
"We were pioneering craft beer and Hahn Premium was doing well. But it was a tough period. Money was tight. We were dealing with interest rates of above 15 per cent."
In 1992, with the brewery barely breaking even, Chuck failed to broker a deal with the banks and by 1993 Lion Nathan had purchased the Hahn brewery and the brand but would keep Chuck on as the group's chief brewer.
Over the next five years Chuck would be responsible for the beer quality across two breweries in China, five in Australia and a further three in New Zealand.
"It was a great period, a very influential period. But I wanted to get back to making my own style of beer. People still can't believe it when I tell the story that everyone at Lion wanted to close the old Hahn brewery down. It was costing them one million dollars a year to run it. They wanted to close it down and move all the tanks out to the Tooheys Brewery as a pilot plant. So I argued the case that we needed an inner city brewery. I said 'we're going to call it the Camperdown Colonial Brewery and we're going to brew English style ales' because I thought there was a niche for English styles at that time.
"So they gave me permission to do that and it's a funny story because the then Lion CEO Gordon Cairns, who's now the chair of Woolworths, said he'd let me do it as long as I didn't lose more than a million dollars in the first year. Well, we lost $960,000 the first year. We broke even the next year and then we made a million dollar profit in the following. And now James Squire is a multi-million dollar brand."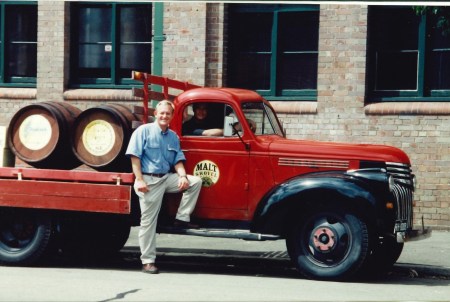 Shovel ready
Out of the newly renamed Malt Shovel Brewery (Camperdown Colonial Brewery never did see the light of day) the James Squire brand would launch with the Original Amber Ale – a cross between Newcastle Brown and New Belgium's Fat Tire.
"One of the reasons we went with an amber first was because we could immediately see in a pub setting who was drinking our beer. We were going out at night and going straight up to people and saying 'hi, we're the brewers, what do you think of our beer?'."
The public's taste for the Squire range would almost know no limit for a period in Australia and the accolades would follow suit. Out of the many awards they reaped, four would take Gold at the World Beer Cup – for their Pilsener (2008), New Norcia Abbey Ale (2010), Summer Ale (2016) and Porter (2018) – a feat nowhere near matched by any other Australian brewery.
As well as playing an integral role in the establishment of many, many James Squire Brewhouses across the country, the intervening years would see Chuck continue his passion for seeing breweries, with "real, human stories behind them", flourish. He would help bring the likes of the Kosciuszko Brewing Company into being in 2009 at the Banjo Paterson Inn in Jindabyne and aide in the rebirthing of the Eumundi Brewery at its spiritual home at the Imperial Hotel on the Sunshine Coast.
"That's what we're really about and probably why I've stayed on so long because it's intriguing to me to go out and help build these small breweries up."
What's next for Chuck? With some back issues causing him some pain he is for the first time seriously contemplating retirement while he continues to be at the forefront of new brewery startups for Lion – from Newcastle to Lord Howe Island. (Since the original article appeared in our magazine Chuck has told us: "My back surgery on 26 May went well and I am slowly recovering at home. It involved an L2/L3 and L3/L4 fusion to repair the disc degeneration resulting from too many years of throwing beer kegs and bags of malt around – in addition to many years of skiing also. I would hope to be back on board shortly.")
He's also looking forward to borders reopening and travelling again with his wife back to the States where he has eight grand children. And he'd love to spend more time in the ocean at Coogee where he's long owned a home not far from Bondi Beach where his storied Australasian adventure began.
"I've very much been a hands-on type person when it comes to beer and brewing. It's all about creating interesting beers and enjoying them with people. That's what this so-called 'job' has been about for me."
'Unparalleled enthusiasm'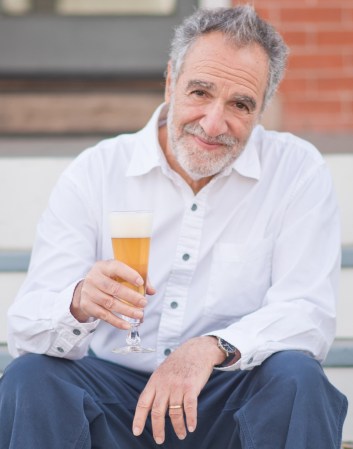 "He participated in countless Great American Beer Festival and World Beer Cup judging occasions and was always eager to share his expertise and experience, which crossed between both big beer and small beer worlds. He made friends wherever he went. He knew his beer and was always focused on quality while never losing sight of enjoyment. Chuck was always open to new ideas and beer experiences, while focusing on what his customers really appreciated in a beer all while pushing the boundaries and offering fun explorations for those who ventured to enjoy the beer he brewed. His unparalleled enthusiasm for brewing and exploring great beer was contagious. In the early times of craft brewing and craft beer it was sometimes a wild frontier. Chuck's involvement and mentoring was of great value to all of us who were behind in the learning curve of portraying and brewing great beer," Charlie Papazian, "the godfather" of craft beer and founder of the Association of Brewers (now the Brewers Association), the American Homebrewers Association, the World Beer Cup and the Great American Beer Festival.
'Infectious passion'
"Chuck developed and influenced a large number of people in the Australian beer and brewing industry. And not just brewers either, although there are a lot of them plying their trade because of having worked for or with him. Chuck's passion for beer was infectious and nobody seemed immune – from sales and marketing through to every level of the hospitality industry you will find people doing what they're doing because Chuck had a level of input in their lives. My brother Matt (also brewed at Hahn) and I spotted some empty bottles of Hahn Sydney Bitter in a back laneway in Sydney's eastern suburbs once. We'd launched the beer about six months previously and had thought it interesting to see them lying there. When we told Chuck what we'd seen he casually retorted: 'you know you've made it in brewing when you see your name in the gutter'. Anyone who has worked for Chuck will tell you what a disciplined worker he is, and he expects that same ethic from everyone. Chuck made me a very good brewer. I was probably going to be a good brewer anyway but he not only gave great technical but also excellent practical training and it really is achieving those high-level practical skills that make a difference in the day- to-day operations of a brewery,"
Doug Donelan, former Hahn brewer, former Malt Shovel head brewer and ex-CEO of NZ Hops.
'Relentless drive'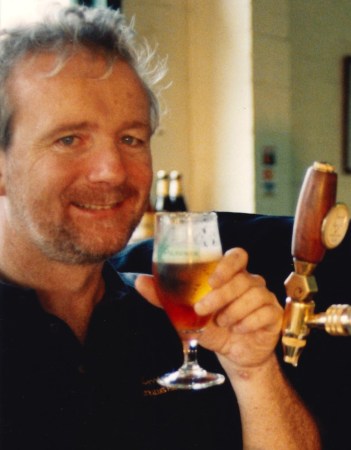 "Chuck's key attributes are an unwavering passion and relentless drive. Like a dog with its favourite bone, Chuck never lets go and never gives up – striving to establish new ventures, new beers and forever espousing the 'gospel of beer' to those that want to listen (and those that don't). He is a visionary and mentor to many right across the full spectrum of the brewing industry and is generous with sharing his knowledge and time – not just to those within Lion but particularly the various new breweries trying to start up their own ventures. Chuck was at the forefront of the early development of Australian craft beer (termed 'boutique beer' at the time) with his Hahn Premium Lager circa 1988. Chuck and his team of brewers (of which I deem to be privileged to be one) have won numerous awards over the years (and) after 50 years of brewing I don't foresee Chuck hanging up his brewing 'ski' boots just yet!" Rob Freshwater, former Hahn brewer and current Malt Shovel senior brewer.
'Pioneering, unflappable'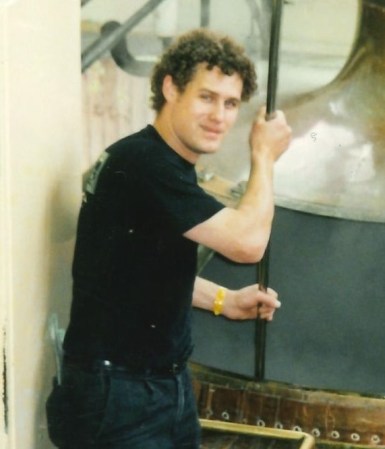 "When working directly for him I realised the effectiveness of his conviction. Beer, not wine, belonged on a table with a meal – a lower alcohol, healthier alternative with a thousand permutations in flavour. His passion was infectious and his determination to bring people along on his journey and love of beer was pioneering in Australia – before it was craft. Thirty people at a time through his brewery on the first Tuesday of the month for decades, with that unflappable, laconic unveiling of a secret that was right under everyone's noses. Chuck was convinced that perfection couldn't be found in a single brew – it was always a blend. A precise blend. Never 70/30 or 80/20 – but 50/50 of two different maturation tanks. I think it came from his days at Tooth. But whenever asked for his preference for the make-up of the next tank of beer – it was always 50/50," Sean Symons, former Malt Shover brewer and founder of White Lakes Brewing.
'An undisputable visionary'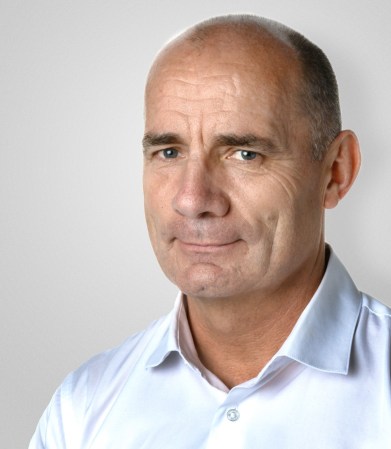 "I first met Chuck when I was country manager of (then) Lion Nathan China and where he was helping the business expand. He was then the head brewer responsible for setting up, operationalising and ensuring beer quality across all of Lion's operations in Australia, New Zealand and abroad. He is to this day the resident expert on ventures big and small as a master brewer for the Lion business – from quality control in large scale brewing, to setting up and growing craft breweries across Australia, nurturing generations of brewing and hospitality talent working in them, and building passionate communities around them. I have known Chuck for 27 years – he is a colleague, an undisputable visionary and mentor to many, a generous and passionate community member, and most of all a dear friend," James Brindley, Managing Director, Lion Australia.
'Way ahead of his time'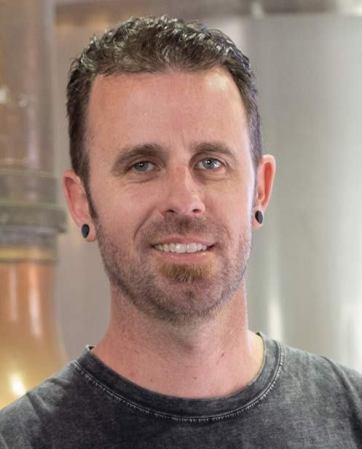 "Chuck is very generous to the brewers not only the ones that work with him but within the industry. He is always willing to give advice and lend equipment to brewers who are starting out in the industry. I see Chuck as a brewer with an entrepreneur's mind. He was way ahead of his time when setting up Hahn and then Squires. He wanted Australians to drink great tasting beer and beat the wine industry at food matching. He has helped shape the Australian craft industry and he sees areas in the market that haven't even started yet and pushes enthusiastically to make it happen with authentic brands. This has been evident with Hahn, James Squire, Kosciuszko, Eumundi etc. He's been a great mentor to me. The godfather of the Australian craft beer industry," Haydon Morgan, current Malt Shovel head brewer.
'Brave, passionate'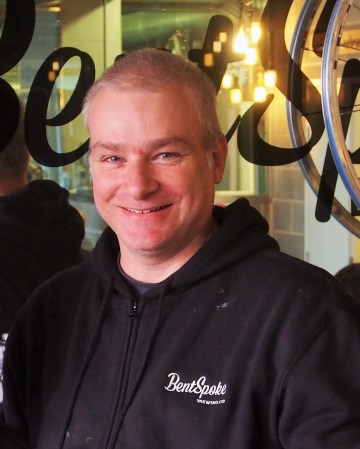 "Chuck's legacy is he was part of that craft beer revolution back in the 80s. He was brave enough to start up a craft brewery in a questionable time in Australia. He had a go, shut up shop then reopened. He has always supported every brewery in Australia that has started up – whether by offering brewing advice or including their beers in one of his James Squire beer dinners. And it didn't matter how late a night Chuck had at beer dinners he was always swimming laps in the pool at 7am the next day. I remember how passionate he was and how clean he wanted everything kept. At the time I didn't realise the importance but later on when I started brewing in Canberra I adopted his mantra and every time he dropped in to see me he would remind me 'keep on cleaning Richard'," Richard Watkins, former Hahn packaging line worker, founder BentSpoke Brewing.
'The godfather'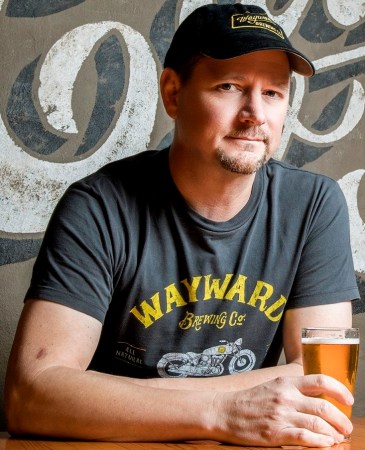 "Camperdown is the spiritual centre of inner-west brewing in Sydney and Chuck started that. He's the godfather of Australian craft beer and he's always been an ambassador for Australian craft. Just in Wayward's experience Chuck and his Malt Shovel brewers were some of the first people on the scene to help out at 5am back when our first tanks arrived. That's a small indication of the level of Chuck's care for the industry," Peter Philip, President Independent Brewers Association and founder Wayward Brewing.