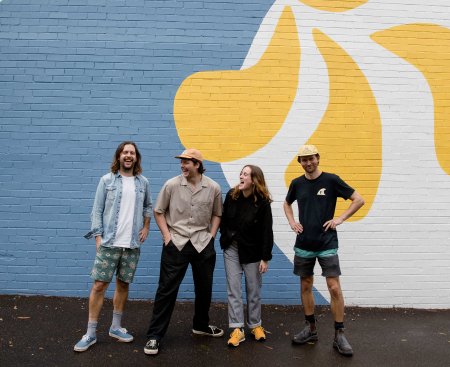 People can finally check out the latest brewery to call Brookvale home as Freshwater Brewing ready to swing open the doors to their brewpub this Sunday (September 18).
Back in April we brought you the story of how one of Australia's most condensed regions for brew on premise hospitality venues was soon to be getting its sixth, all within a one kilometre radius of each other.
And now, after some ubiquitous delays in the building process, the day to welcome guests to their 120-person capacity home on Brookvale's Powells Road has come where they'll find a horseshoe shaped bar with 14 taps (including a Czech side-pull one), seating throughout and kitchen with a 10 hectolitre, three vessel system at the rear.
With their "relaxed backyard meets beachside bliss" menu curated by Michelin-trained executive chef Daniel Wilson (ex Dandy, London), Freshwater Brewing will be the only brewpub in its postcode to boast an on-site kitchen offering a full restaurant menu. They said to expect "a bit of Aussie nostalgia with a menu including BBQ prawn skewers, Swallow rock pork sausage rolls with cumin, harissa and fennel mayo, a seafood platter and Sydney rock oysters with a finger lime vinaigrette".
Freshwater Brewing said the venue is "bright, approachable and inviting (and) not centred on traditional craft beer crowds" and that "there's a comfort to the facilities that will be a welcome change to the normal 'bloke' focused environment".
"It goes without saying that dogs and children are welcome, it's a brewery after all, but (we're) wanting people to reappraise the changing Aussie beer scene and feel excited to order a drink at the bar and not be intimidated by a confusing beverage menu. Whether that's a Pet Nat, a non-alcoholic, a spritz or just a beer that tastes like beer, Freshie will find something you'll love and want to come back for."
Co-founder Jonny Bucknall said: "We are stoked to be opening our first brewery a year after the launch of our first beer and in our local neighbourhood. Community is in the brand's DNA and this gives us an opportunity to create a space for our friends, family and neighbours, and create a brewery for all that embodies the Australian surf lifestyle".
Freshwater Brewing is at 4 Powells Road Brookvale NSW 2100. Their full opening hours are:
Wednesday 4pm – 11pm
Thursday 4pm – 11pm
Friday 4pm – 12am
Saturday 12pm – 12am
Sunday 12pm – 10pm