Every beer producing and consuming country has their own version of pale ale – a simple combination of malt and hops, generally at a 1:2 bitterness to gravity ratio, although that can creep up to a 3:4 ratio if they like their beer more bitter.
India pale ales hit the 1:1 ratio, for comparison. But your basic pale ale is a simple beer, generally a single pale ale malt, a single hop variety for bittering and aroma, and much of the character of the beer coming from the yeast. British pale ales are known for their fruity esters, Belgian pale ales for their phenolic spicy character, American pale ales for the lack thereof, and Australian pale ales for being sparkling.
What's its exact character?
It has been 10 years or so since my last visit Down Under, and I confess that Coopers was not high on my list because of the many other local craft breweries that were plying me with their wares. But when trying to define the sparkling ale's nature, I turned to my good friend and homebrewing author Peter Symons of Sydney who has made a detailed study of the beers of Australia. He replied that Australian sparkling ale got its start at Coopers in 1862, then called just "Ale" and distinguished from other pale ales by continuing to use bottle conditioning with its less flocculent yeast, which therefore tended to have greater attenuation and resulted in the beer having higher carbonation in the bottle, hence "sparkling".
This moniker grew in popularity in the late 19th Century with both Adelaidean and imported brands where sparkling was meant to imply both clear and high carbonation. The style was a contemporary of the last of the India pale ales and Burton ales, and likely shared the same yeast(s). All yeast cultures at the time were multiple strains and the Burton strain was known for its high attenuation.
Sparkling's evolution
The strength of sparkling ale has decreased over the years, from about 7% in 1890, down to near 6% in 1927, and has held steady at 5.8% for the last 50 years. The malt bill has always been simple, initially being pale malt with added sugar and later adding a bit of specialty malt for colour. The malt character is supposed to be bready, like a pilsner, not nutty or biscuity, so a maltier base malt, such as Maris Otter pale ale malt is not appropriate.
It is a simple beer, but a fair drop. The yeast character adds to the smoothness and drinkability of the brand, much like it does for German wheat beer. The suspended yeast smooths out the bitterness of the beer and makes the mouthfeel creamier despite the high carbonation.
The hops were originally imported from England but were eventually home grown. Pride of Ringwood were introduced around 1960 and have been a staple in the beer ever since.
These beers are not dry-hopped and only receive a single bittering addition – but more recently a flavour addition also.
The fermentation of this beer was interesting. The wort was originally cooled in a coolship, then open fermented in wooden vats with the house strain(s), and cleansed of the yeast in oak casks. This practice persisted until about 1980 when it was modernised to the usual stainless tanks. The yeast strain was also cleaned up in the 80s, improving flocculation for clarity, yet keeping the Burton-like attenuation.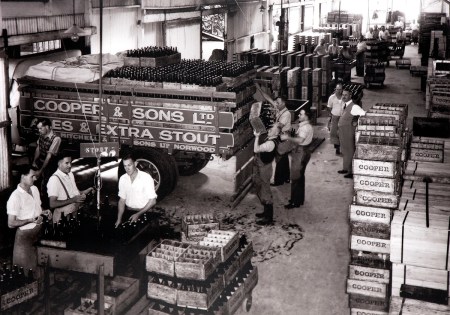 Today's Coopers Sparkling Ale is very similar to its heyday. From what I have read, I believe the current practice of rousing the yeast was a marketing effort in the 90s to turn a bug into a feature, and maintain the appearance from the 70s, however misguided that may have been. Most of the people I have talked to about the style prefer to decant the clear Sparkling Ale off the yeast. The cornerstone of the style is the fermentation character, having refined pear-like esters with hints of apple, banana and citrus. Other aspects of the yeast character can be yeasty and earthy.
Lastly, a relatively new pale ale style, the "Pacific ale, could be considered a modern version of sparkling ale – where the malt and hop bill are opened up to typically wheat and specialty malts, and other Australian hop varieties – but at a sessionable strength somewhere in the region of 4%.
Australian Sparkling Ale Recipe
All grain (expected figures)
OG: 1.045
FG: 1.005
ABV: 5.6%
IBU: 35
Volume: 19 litres
Ingredients
3.5kg Voyager pale ale malt
300g Wheat malt
100g Dark crystal malt (120L)
30g Pride of Ringwood hop pellets
Coopers Ale yeast or WLP023 (Burton Ale Yeast)
Recommended water profile
Ca2 75-125, Mg2 10-20, Total Alk 0, SO4 150-250, CI 100-150,
RA -100-0
Method
Mash in to hit 65°C for 60 minutes.
Sparge and transfer to kettle.
Once boiling add all hops for a 60 minute boil.
Flame out and whirlpool.
Cool wort to 18 °C and run into fermenter.
Oxygenate or aerate and pitch yeast and maintain 18°C during fermentation.
When FG stabilises, keg or bottle as usual.
Extract with specialty malts (expected figures)
OG: 1.045
FG: 1.005
ABV: 5.6%
IBU: 35
Volume: 19 litres
Ingredients
2.7kg Pale malt extract
300g Wheat malt
100g Dark crystal malt (120L)
30g Pride of Ringwood hop pellets
Coopers Ale yeast or WLP023 (Burton Ale Yeast)
Method
Heat 5 or 6 litres of water in a large pot, and mash specialty malts at 65°C for 30 minutes in a malt bag or large hop bag.
Remove bag from liquid and allow to drain, then bring to the boil.
Once boiling, add all hops for a 30 minute boil.
At 30 minutes, flameout and whirlpool for a few minutes.
Transfer pot to ice bath or cool water to cool wort, then tip into fermenter leaving behind as much of the hop matter etc as you can.
Add fresh cool water and stir in extracts to reach 17 litres, checking temperature.
Add warm or cool water to hit 20 litres at 18°C.
Oxygenate or aerate and Inoculate with yeast.
When FG stabilises, keg or bottle as usual.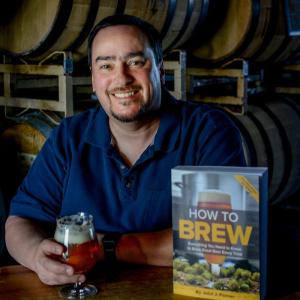 John Palmer is the author of the bestselling home brew book How to Brew. In every issue of Beer & Brewer magazine he does a deep dive into a particular facet of brewing better beer and regularly provides recipes. Subscribe to our magazine here.